It's summer time, the best time of year! You're probably opening those windows, biking more, going for walks, and enjoying all this beautiful weather!
Summer is also the most anticipated time of the year for Stewart's Shops ice cream fans because it's new flavor time! All the new flavors are all now available at the cone counter.
Try out these flavors while they're here!
If you're looking for a flavor that's fruity and decadent, try Marionberry Cookie . This marionberry ice cream has a blackberry base with a chocolate cookie crumb swirl.
Back by popular demand, Campfire S'moreo. It's a customer favorite with toasted marshmallow flavored ice cream with a graham cracker swirl and Oreo® pieces. Nothing says bring on summer,  like ice cream and s'mores.
Sweet and Salty! Chocolate Sea Turtle has chocolate ice cream with sea salt caramel swirl and chocolate fudge pecans.
And rounding out the seasonal flavor list is Piece of Cake. This butter cookie ice cream with a milk chocolate icing swirl and yellow cake pieces.
Try them all while they're still available! Don't forget to use your Scoop Club Card to earn free ice cream all year long.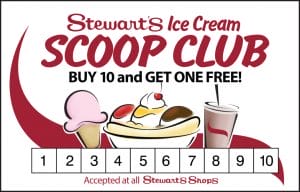 What's Your Flavor?