The evolution of Stewart's Shops over the past 75 years is why you still enjoy Stewart's today. Because we do many things, we can do them well. That diversity allows us to give you quality products, friendly service, and help make your life easier.
In the 1950s we became
Your Ice Cream Shop
In the 1950s Stewart's Shops became your ice cream shop selling cones, Make Your Own Sundaes and packaged ice cream, all made in our own plant. During this time we were the very first to sell ice cream in a folding half gallon package. As we grew to a few dozen shops, Stewart's became the best known ice cream in the area with many more flavors than most! Our notoriety grew with the help of TV programs like Stewart's Western Sundae and as an early advertiser on shows like Hopalong Cassidy, Hawkeye, and Whirlybirds. We even offered helicopter rides for customers who collected Perky Points. While we no longer give rides, you can always enjoy the fun and flavors of Stewart's ice cream!
In the 1960s we became
Your Dairy Shop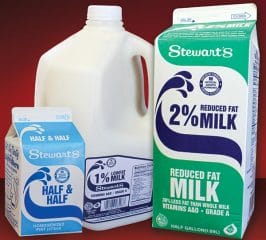 In the 1960s Stewart's Shops became your dairy shop, selling quality milk from our own dairy right out of our own shops. Taking out the middle/deliveryman allowed us to be very competitive in our pricing. We hit a stumbling block when the state sued us over licensing laws for milk distribution. But Stewart's won the court case after it was determined the law was only in place to help existing businesses, not for the benefit of the public who were purchasing the product. As this ruling allowed us to make milk available at a much cheaper price we were recognized with a great deal of positive publicity, boosting our milk business and accelerating the demise of more costly home delivery. To this day we sell fresh and local milk from farms near our plant.
In the 1970s we became
Your Gas Station
In the 1970s Stewart's Shops became your gas shop due to a persuasive move by our largest competitor! In order to purchase a property in Hudson, NY from Mobil, they required us to sell gas. Ultimately and ironically creating their largest competitor. We continued to buy hundreds of former small gas stations from major oil companies that were no longer viable because the two pump station with a mechanic was unable to compete with car dealerships that could also repair a more complicated car. Our shops becoming even more convenient by offering free air and not requiring gas customers to prepay.
In the 1980s we became
Your Coffee Shop
In the 1980s Stewart's Shops became your coffee shop. Not only was selling coffee out of a shop unheard of at the time, we went a step further and let customers serve themselves right out of the glass pots, following in the Make Your Own concept. This gave customers a sense of ownership; excited they could make their coffee exactly how they like it. As pastries and snacks were added, along with the newspaper and lottery tickets, Stewart's became a social gathering spot. This was a particularly easy transition as the shops already had booths for ice cream service.
In the 1990s we became
Your Beverage Shop
In the 1990s Stewart's Shops added even more variety with prepared foods such as hot dogs, chili and sandwiches. A new, larger dairy and blow molding equipment also paved the way for Stewart's Refreshers in a variety of juices, drinks and milk. We were able to offer Refreshers at a great value since we made them ourselves. At a time when many other companies were selling 12 packs and cases of beverages and limited fountain drinks, we focused on single serve drinks. That single beverage business is still going strong as people graze all day long.
In the 2000s we became
Invested in Our Partners
In the 2000s Stewart's Shops put emphasis on its people and systems. That entailed increasing its profit sharing plan (ESOP) so employees own 1/3 of the company, at a time where other businesses were automating jobs by replacing people with ATMs, self-checkouts, and travel websites. Ownership and job stability has enhanced the uniquely pleasant atmosphere in our shops. On top of the company contributions, participants have seen double digit growth on existing accounts over the past several years. It may be why you see them smile so much!
In the 2010s we became
Your Restaurant
In the 2010s Stewart's Shops expanded its food service options to become your restaurant. People began looking for a broader selection of easy food to fit into their busy schedules. We're able to serve this grazing trend with a variety of prepared food, less expensive packaged food, and beverages. While the fast food industry is struggling, the different amounts of food and drinks we offer is a reason why our business is expanding.
We realize we can be a different thing to each of our customers. That's what makes us unique! And it's also why we can provide you quality, value and a friendly place to shop, all while making your life easier.