It's not just chocolate… it's Stewart's CHOCOLATE! Chocolatey goodness with undertones of chocolate and a chocolatey finish.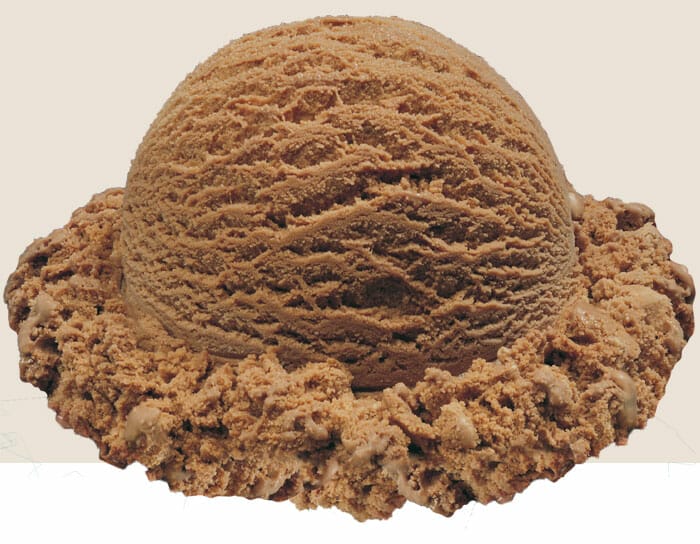 Awards:
2021 Best of the Best
Voted 1st Place – Regular Chocolate Ice Cream Class
My favorite flavor is C H O C O L A T E! It is so refreshing after a long day of work and helps you get your energy back so you can keep on doing what you're doing. Chocolate is so good in a cone or a milkshake and you can enjoy it on a nice summer day or on a cold winter night. You will never be disappointed with chocolate from Stewart's.
-Jim S.
Available In:

½ Gallon

Pint

Cone
Allergen Info:
CONTAINS: MILK
Kiddie Scoop
Nutrition Facts
serving per container
Serving Size
kiddie (85g)
Calories
per serving

190

%DV *
Total Fat

12g

15%

Saturated Fat

7g

35%

Trans Fat

0g

Cholesterol

35mg

12%
Sodium

50mg

2%
Total Carbohydrate

20g

7%

Dietary Fiber

1g

4%

Total Sugars

16g

Includes Added Sugars

12g

24%
Protein

3g

Vitamin D

0.6mcg

4%

Calcium

80mg

4%

Iron

0.4mg

2%

Potassium

200mg

4%

* The % Daily Value tells you how much in nutrient in a serving of food contributes to a daily diet. 2,000 calories a day is used for general nutrition advice
Single Scoop
Nutrition Facts
serving per container
Serving Size
single (142g)
Calories
per serving

320

%DV *
Total Fat

20g

26%

Saturated Fat

12g

60%

Trans Fat

0.5g

Cholesterol

60mg

20%
Sodium

85mg

4%
Total Carbohydrate

34g

12%

Dietary Fiber

1g

4%

Total Sugars

26g

Includes Added Sugars

20g

40%
Protein

5g

Vitamin D

0.9mcg

4%

Calcium

140mg

10%

Iron

0.6mg

4%

Potassium

330mg

8%

* The % Daily Value tells you how much in nutrient in a serving of food contributes to a daily diet. 2,000 calories a day is used for general nutrition advice
Double Scoop
Nutrition Facts
serving per container
Serving Size
double (227g)
Calories
per serving

520

%DV *
Total Fat

32g

41%

Saturated Fat

20g

100%

Trans Fat

1g

Cholesterol

95mg

32%
Sodium

130mg

6%
Total Carbohydrate

54g

20%

Dietary Fiber

2g

7%

Total Sugars

42g

Includes Added Sugars

33g

66%
Protein

8g

Vitamin D

1.5mcg

8%

Calcium

220mg

15%

Iron

0.8mg

6%

Potassium

530mg

10%

* The % Daily Value tells you how much in nutrient in a serving of food contributes to a daily diet. 2,000 calories a day is used for general nutrition advice
Milkshake
Nutrition Facts
serving per container
Serving Size
20 fl oz
Calories
per serving

780

%DV *
Total Fat

38g

49%

Saturated Fat

24g

120%

Trans Fat

1g

Cholesterol

120mg

40%
Sodium

260mg

11%
Total Carbohydrate

99g

36%

Dietary Fiber

4g

14%

Total Sugars

Includes Added Sugars

64g

128%
Protein

16g

Vitamin D

3.8mcg

20%

Calcium

460mg

35%

Iron

2.7mg

15%

Potassium

950mg

20%

* The % Daily Value tells you how much in nutrient in a serving of food contributes to a daily diet. 2,000 calories a day is used for general nutrition advice
Thick Milkshake
Nutrition Facts
serving per container
Serving Size
20 fl oz
Calories
per serving

900

%DV *
Total Fat

45g

58%

Saturated Fat

29g

145%

Trans Fat

1.5g

Cholesterol

140mg

47%
Sodium

280mg

12%
Total Carbohydrate

111g

40%

Dietary Fiber

5g

18%

Total Sugars

92g

Includes Added Sugars

72g

144%
Protein

17g

Vitamin D

3.9mcg

20%

Calcium

490mg

40%

Iron

2.9mg

15%

Potassium

1040mg

20%

* The % Daily Value tells you how much in nutrient in a serving of food contributes to a daily diet. 2,000 calories a day is used for general nutrition advice
Hand Packed Pint
Nutrition Facts
3 serving per container
Serving Size
2/3 cup (142g)
Calories
per serving

320

per container

970

%DV *
%DV *
Total Fat

20g

26%

59g

76%

Saturated Fat

12g

60%

37g

185%

Trans Fat

0.5g

2g

Cholesterol

60mg

20%

180mg

60%
Sodium

85mg

4%

11%

250mg
Total Carbohydrate

34g

12%

101g

37%

Dietary Fiber

1g

4%

4g

14%

Total Sugars

26g

79g

Includes Added Sugars

20g

40%

61g

122%
Protein

5g

16g

Vitamin D

0.9mcg

4%

2.8mcg

15%

Calcium

140mg

10%

420mg

30%

Iron

0.6mg

4%

1.8mg

10%

Potassium

330mg

8%

1000mg

20%

* The % Daily Value tells you how much in nutrient in a serving of food contributes to a daily diet. 2,000 calories a day is used for general nutrition advice
Pint
Nutrition Facts
3 serving per container
Serving Size
2/3 cup (106g)
Calories
per serving

250

per container

750

%DV *
%DV *
Total Fat

16g

21%

49g

63%

Saturated Fat

10g

50%

31g

155%

Trans Fat

0.5g

1.5g

Cholesterol

50mg

17%

145mg

48%
Sodium

55mg

2%

170mg

7%
Total Carbohydrate

25g

9%

74g

27%

Dietary Fiber

1g

4%

3g

11%

Total Sugars

Includes Added Sugars

15g

30%

46g

92%
Protein

4g

8%

11g

22%
Vitamin D

0.8mcg

4%

2.3mcg

10%

Calcium

100mg

8%

300mg

25%

Iron

0.4mg

2%

1.3mg

8%

Potassium

230mg

4%

700mg

15%

* The % Daily Value tells you how much in nutrient in a serving of food contributes to a daily diet. 2,000 calories a day is used for general nutrition advice
Half Gallon
Nutrition Facts
12 serving per container
Serving Size
2/3 cup (93g)
Calories
per serving

210

%DV *
Total Fat

13g

17%

Saturated Fat

8g

40%

Trans Fat

0g

Cholesterol

40mg

13%
Sodium

55mg

2%
Total Carbohydrate

Dietary Fiber

1g

4%

Total Sugars

Includes Added Sugars

13g

26%
Protein

3g

Vitamin D

0.6mcg

4%

Calcium

90mg

6%

Iron

0.4mg

2%

Potassium

220mg

4%

* The % Daily Value tells you how much in nutrient in a serving of food contributes to a daily diet. 2,000 calories a day is used for general nutrition advice
MILK, CREAM, LIQUID SUCROSE (sugar, water), NONFAT MILK, CORN SYRUP, COCOA (processed with alkali), WHEY PROTEIN CONCENTRATE, BUTTER (cream, salt), GUAR GUM, MONO AND DIGLYCERIDES, CELLULOSE GEL, CELLULOSE GUM, POLYSORBATE 80, CALCIUM SULFATE, CARRAGEENAN, DIPOTASSIUM PHOSPHATE, LOCUST BEAN GUM