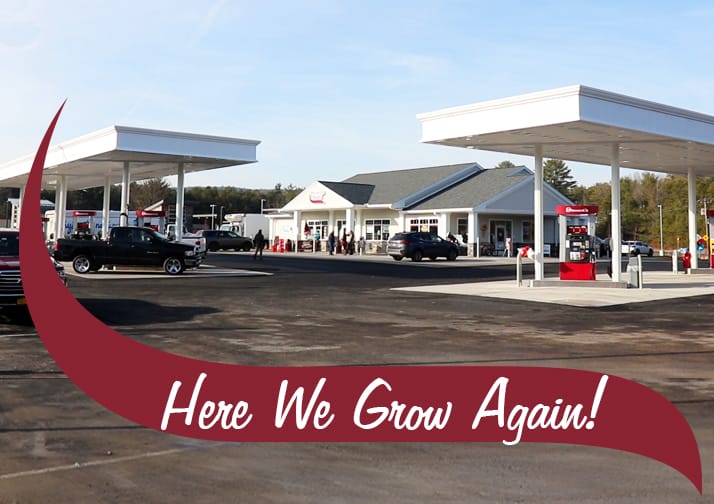 Our Spier Falls shop opened in late November; this shop is just 3 miles down the road from the Smith Dairy Farm, which is one of the 20+ local dairy farms we source our award-winning milk from, talk about Fresh & Local!
This shop serves as the "Gateway to the community of Moreau" as Town of Moreau Supervisor Kusnierz says, and it's a welcome asset to both the residential neighborhoods nearby and commuter traffic. It's right off the highway location makes it a great place to gas up and get milk or essentials on the way home.
Our customers are loving the convenience of the quick in and out our shop has to offer, along with all the grab and go and grocery options. This shop sits on a busy corner and has an enormous parking lot with diesel and fuel services.
GRAND OPENING:
When: Friday, December 11, 2020
Where: 1311 Rt 9 Town of Moreau, NY.
Time:  Ribbon cutting ceremony at 10 am with local dignitaries and food, drink and gas specials all day.  Our shop manager Matt proudly cut the ribbon along with local and state dignitaries.
"grand opening Spier Falls"
New Shops in 2020
2020 has been a busy year for our construction team! We will round out 2020 with 15 new to market shops and 10 completely rebuilt shops with the Red-Kap asset acquisition. In just November and December, we will have opened 6 new shops including Keene, Everett Rd., Scotia, Spier Falls Rd in Moreau and coming soon, a new shop on Columbia Turnpike in Castleton and a new shop in Catskill on West Bridge Street.
Mark Your Calendars for these Grand Openings:
Friday 1/8- Everett Rd Albany, NY
Friday 1/8- West Bridge Street Catskill, NY
Friday 1/15- Sacandaga Rd in Scotia, NY
2020 Construction Recap:
Fuller Rd in Albany, NY- 19 Fuller Rd. Albany, NY 12205- Open January 2020
*NEW to market- New Windsor – 2020 Quassiack Avenue New Windsor, NY- Open April 2020
Ridge Street – 250 Ridge Street Glens Falls, NY 12801- Open April 2020
Port Henry- 4308 Main Street Port Henry, NY 12974- Open July 2020
*NEW to market- Rotterdam- 2970 Guilderland Avenue Rotterdam, NY 12306- Open September 2020
Schodack- 1540 Columbia Turnpike Castleton, NY 12033- Open September 2020
State Street, Schenectady- 1173 State Street Schenectady, NY 12304- Open September 2020
*NEW to market- Clifton Park-1736 Rt 9 – Open September 2020
*NEW to market- Karner Rd. 31 New Karner Rd in Albany, NY- Open September 2020
Altamont- 1001 Altamont Blvd Altamont, NY 12009– Open September 2020
Indian Lake, 6295 State Rt 30 Indian Lake, NY -Open in September 2020
Keene- 10857 NYS Route 9N Keene, NY 12942- Open November 2020
Everett Rd in Albany, NY- 406 Albany Shaker Rd Loudonville, NY 12211- Open November 2020
*NEW to market-Spier Falls Rd in Gansevoort- 1311 Rt 9 Gansevoort, NY 12831- Open November 2020
*NEW to market- West Bridge Street in Catskill, NY 8 West Bridge St Catskill, NY 12414- Open December 2020
Sacandaga Rd in Scotia, NY-  571 Sacandaga Rd. Scotia, NY – Open December 2020
*NEW to market-Columbia Turnpike in Castleton, NY- 1811 Columbia Turnpike Castleton, NY 12033- Open December  2020