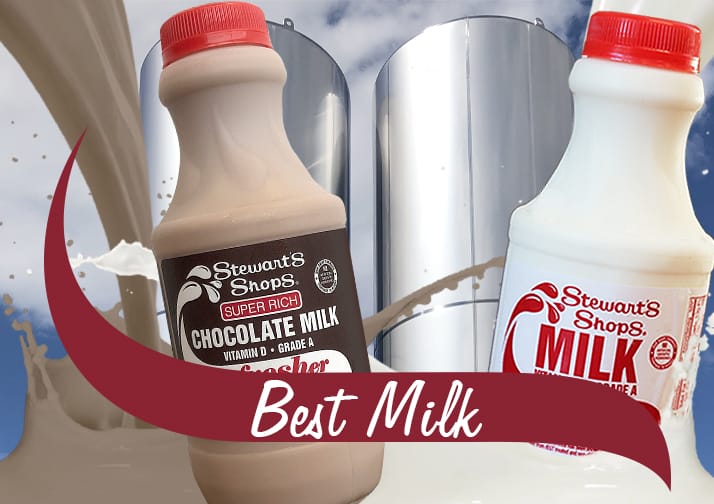 Did you hear the MOOS?
Stewart's Shops milk and chocolate milk have been named the BEST in New York State, by Cornell University Department of Food Science. The awards were presented on Dairy Day, August 25, at a virtual event. The recognition is part of Cornell's New York State Milk Quality Improvement Program.
Cornell University collected samples from New York State plants in October and May. The samples of whole milk, 2%, 1%, fat free milk, flavored milk, and chocolate milk were scored on various criteria, including best flavor. Chocolate and flavored milk were new categories this year. Milk samples are judged on microbial analyses, fat determination, freezing point and flavor.
Stewart's Shops proudly took top honors in the chocolate milk and milk categories. Stewart's offers both 1% and Super Rich Whole Chocolate Milk.
We partner with 23 local dairy farms to source our raw milk. Our drivers pick up the milk daily, we process and bottle it ourselves at our manufacturing plant in Greenfield, NY to ensure the highest standards of quality.
According to Stewart's Shops president, Gary Dake, "With roots in dairy, we pride ourselves on our longstanding history of providing fresh and local milk to our customers. This Best Milk award is a testament to our hard-working dairy farmers and our experience in the dairy industry. Our customers can feel good about buying their milk and ice cream from Stewart's Shops knowing that they are supporting local dairy farmers. We are so proud to take top honors in both the milk and chocolate milk categories."
Chris Koval, of Koval Brothers is a third generation dairy farmer that has been working with Stewart's his entire life. He said, "As a local farm family, we are proud to work with Stewart's.  Our partnership is a true team effort.  We work together to put the best product from our cows out to store shelves.  It's gratifying to be able to supply high quality, fresh product to our friends and neighbors. Stewart's makes it easy to be proud of what we do."
We have seen an increase in milk and chocolate milk sales, with more people at home. Chocolate milk has been increasingly popular among Stewart's customers as research shows it to be a good post workout drink, helping muscles to recover quickly.