We've reached the $1 million mark and we still have 11 days left to collect!
The spirit of giving is alive with the Stewart's Holiday Match Program; customer donations have reached over $525,104 through Sunday, December 13th.
That's over $1 million with the Stewart's match so far, and there's still time to donate!
The Holiday Match Program benefits nonprofits in your backyard. It helps schools, community centers, the arts, libraries, food pantries, youth groups, recreation groups, and so many others.
Spotlight on South Jefferson Back Pack Program
This week we are spotlighting the South Jefferson Back Pack Program in the Watertown, NY area. This program serves any child that is considered "food insecure". Backpacks are sent home with the student every week to ensure that the student will have food through the weekend. The bags are packed with egg and milk certificates from Stewart's Shops along with bread, apples and other staples.
Fred Morris, program administrator says, "
The South Jeff Backpack Program has been a Stewart's Holiday Match recipient since 2010. Over the years, Stewart's Holiday Match has been a valuable part of the South Jeff School District's Backpack Program revenue stream. When South Jeff School District was on lockdown due to the pandemic, our Program provided food for over 200 students twice a week.  Without the generosity of our donors, both community members and business partners, we would not have been able to serve our families.  Stewart's Holiday Match is a big part in our efforts to keep our children nourished. I encourage all nonprofits serving children to apply to Stewart's Holiday Match. Thank you Stewart's customers for your generosity."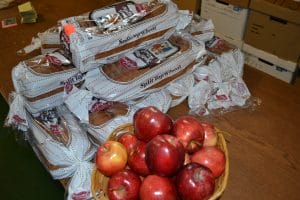 No Administrative Fees
It's been reported that many fundraising efforts spend 30% or more on overhead expenses. Stewart's has no administrative fees and covers all the expenses, so 100% is allocated to the intended charities and Stewart's even doubles every donation. Stewart's Shops matches each donation dollar for dollar and has been doing so for the past 34 years raising over $30 million for local charities.
How does it Work?
Holiday Match funds are collected from Thanksgiving to Christmas Day in each of the 338 shops. Local children's organizations are encouraged to apply for funding online at stewartsshops.com. The deadline for submission is January 31, 2021. All groups applying must be locally based, benefit children under 18, and be a qualified, charitable 501c3 organization. A listing of all the local organizations that received funds last season is available online.