What is Solar Power and How Do We Use It?
Solar Power
Solar power is power generated from the sun's rays that can be used in our everyday lives in the form of electricity once converted. Solar technology such as solar panels take in solar energy and convert it into electricity.
How Stewart's Shops Uses Solar Power
There are many ways to convert the sun's light into useful energy. At Stewart's Shops we use our own panels and draw from solar community grids. This energy is converted into electricity and is used to offset the energy used at our plant as well as some of our shops!
Stewart's Shops Solar Power Journey
Stewart's Shops is always looking for innovative ways to take advantage of green energy like solar.
The Stewart's Plant Has Solar Panels Located on the Roof!
Our plant, located in Greenfield, New York has 2,400 individual solar panels on the rooftop. This initiative offsets $40,000 in energy costs per year! This is the equivalent of removing 80 cars off the road annually!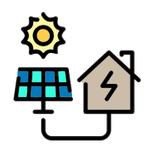 When Did The Solar Plant Project Start and Why?
We started implementing solar back in 2013. The solar plant project started as a way to become more cost effective and energy efficient. These panels helped us offset 15% of the energy cost of operations within the plant!
Stewart's Shops Branched Out and Joined a Solar Farm!
In 2016, we joined a solar farm. With the clean energy derived from this farm we were able to offset the energy of 18 shops! By 2019, this project was so successful that we expanded our solar efforts to support 22 additional shops!
Stewart's Shops Solar Today:
As of 2022, we are helping to offset about 50 of our shops and plants electricity usage by using this form of renewable energy. The success of solar at Stewart's Shops has motivated us to continue researching renewable opportunities such as Electric Vehicles and Hydropower Electricity.

Click HERE to view our Live Solar Data!
This page gives you a real time look at the benefits of our plant roof solar panels, and a history that shows how the energy absorbed has varied over time.
Renewable Energy: The Positives & Negatives
Solar energy is a great example of clean energy that presents many positives and negatives.
The Positives:
Stewart's Shops has about an acre of solar panels on our warehouse roof located in Greenfield Center, NY. They only absorb energy about 25% of the time due to environmental factors such as nighttime and cloud coverage. When our plant is at peak performance, we need the greatest amount of power for operations like refrigeration to make ice cream or run dairy. These solar panels help us offset the peaks in demand that we experience because the most critical part of our electrical grid is avoiding these peaks in demand that can cause brownouts and even blackouts in some States, like we are seeing in California.
The Negatives:
To avoid issues like blackouts from overdrawing from the electrical grid, power companies have a demand charge on commercial customers (like Stewart's Shops) that's usually higher than the actual kilowatt hours consumed. We have solar panels and use solar farms to help us offset the demand.
Another example of this demand challenge can be seen with electrical vehicle (EV) charging stations. We currently have 12 shops with EV chargers. Charging stations are becoming more common where people charge their EVs with quick, powerful charges that create a very high demand charge. In addition, some locations may not be equipped to handle these charges because their electrical grid can't take significant load without extensive infrastructure expansion. These are reasons why we strategically place our charging stations.
What is Hydropower and How Do We Use It?
What is Hydropower/Hydroelectric Power?
This form of renewable energy is derived from the flow of water through a structure like a dam. The energy from the flow of water is converted into usable electricity! There are several ways to convert the natural flow of water into useable energy. Running water can go through a dam or a diversion structure of any size!

How can we use it? 
At Stewart's Shops we work with Comtu Falls in Springfield, Vermont. This energy is converted into electricity and is used to offset about 980kWh a year or 9 of our VT Shops electricity usage!
Stewart's Solar & Hydro Blogs:
Check Out Stewart's Shops New Eco-Responsibility Pages!
Happy Earth Day From Stewart's Shops!
Solar: Stewart's Eco-Responsibility – Solar
Hydro: Stewart's Hydropower Purchase Supports the Environment & Local Communities