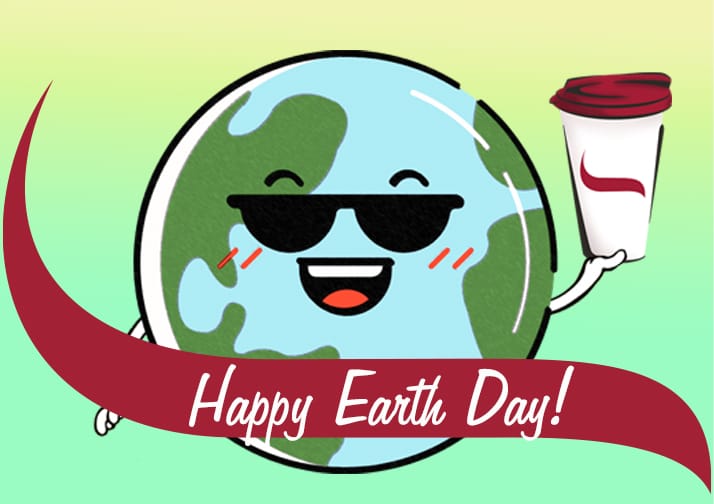 Happy Earth Day! During the past month, we've posted several blogs about our environmental sustainability efforts including Solar, Hydropower, and Electric Vehicles. Stewart's Shops is a company truly dedicated to the communities we serve, reflected by our sustainable efforts as well as our charitable giving.
Earth Day is an annual celebration that honors the achievements of the environmental movement and raises awareness of the need to protect Earth's natural resources for future generations. – National Geographic
Environmental Sustainability Efforts at Our Manufacturing Plant & In Shops
At our plant we use light fixtures that are 100% LED. According to The Center for American Progress, "LED bulbs are more efficient, less costly in the long run, and better for the environment because they use far less energy than the alternatives."
We recycle about 380,000 lbs. of cardboard each month.
About 832,000 lbs. of food waste is given to local farms for animal feed each year.
We use reusable containers including totes, dairy crates, ice cream baskets, and bread trays to deliver product from the plant to the shops.
Electric Vehicle Charging Stations
Did you know? EVs are more energy efficient and cost about 50-70% less to operate per mile than gasoline powered cars.
We have twelve shops that have EV Charging stations. Seven are equipped with Tesla Superchargers and five are equipped with NYPA Charging Stations. Click HERE to view our EV Charging Station List.
Click HERE to learn more about Electric Vehicles & Stewart's EV Plan!
Gasoline Responsibility
Stewart's Shops will purchase property that may have been an old gas station/convenience store etc. Sometimes these old buildings leave ground contaminants behind. Our geologists and real estate team run ground contamination tests. Before any construction takes place, Stewart's Shops makes sure all contaminants have been removed.
All our gas tanks are double walled, and our pipes are multilayered for protection. We put a lot of time and effort into spill prevention because it's vital that we protect the communities we serve by ensuring a clean and safe environment.
Click HERE to learn more about Stewart's Gasoline Responsibility
Stewart's Solar Power
Did you know? Our plant, located in Greenfield, NY has 2,400 individual solar panels on the rooftop. This initiative offsets $40,000 in energy costs per year! This is the equivalent of removing 80 cars off the road annually!
You can see the impacts of our panels in real time! Click HERE to view the amount of energy the panels are taking in right now.
Click HERE to learn more about Solar at Stewart's Shops
Stewart's Hydropower Electricity Efforts
At Stewart's Shops we work with Comtu Falls in Springfield, Vermont. This energy is converted into electricity and is used to offset about 980kWh a year or 9 of our VT Shops electricity usage!
Click HERE to learn more about Stewart's Hydropower
Get outside to celebrate Earth Day and visit one of our many shops located on a bike path/walking trail! And don't forget to grab a hot coffee, free in a reusable mug all day today!
Happy Earth Day!