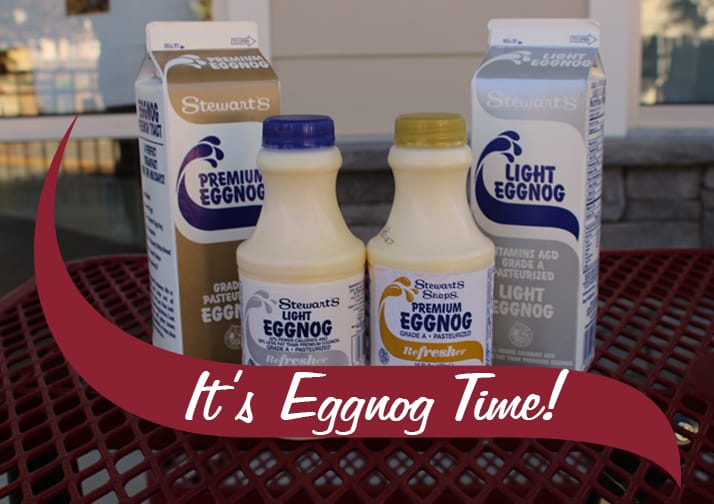 Fresh, local, and delicious! Stewart's eggnog is now available in quarts as well as our 16 oz. Refreshers. We carry both premium and light, made with New York State's best milk!
Stewart's Eggnog is so delicious because it's made with quality ingredients including fresh & local milk sourced from local dairy farms across Washington and Saratoga counties. Stewart's Eggnog is often a fan favorite because it is SO good and also a fan-favorite addition to Stewart's coffee.
Stewart's eggnog is one of the few eggnogs you can get year-round and don't forget, it is also available by the pint (the perfect breakfast beverage).
Although prefix for "ultra-"pasteurization suggests that it is in some way better, in fact, the opposite is true when it comes to value and nutrition. Our eggnog is simply "pasteurized" making it a minimally processed dairy product, produced locally! And with a Stewart's Shop available in every neighborhood, you are never far from farm-fresh milk!
Our eggnog has been described as, "The ideal balance of sweetness, spice and vanilla custard flavors, this eggnog had it all. This creamy mixture is eggnog the way it should be," says Don Cazentre. "This nog coats your mouth as proper eggnog should, but you won't feel like you need to brush your teeth."
Here's what customers are saying: