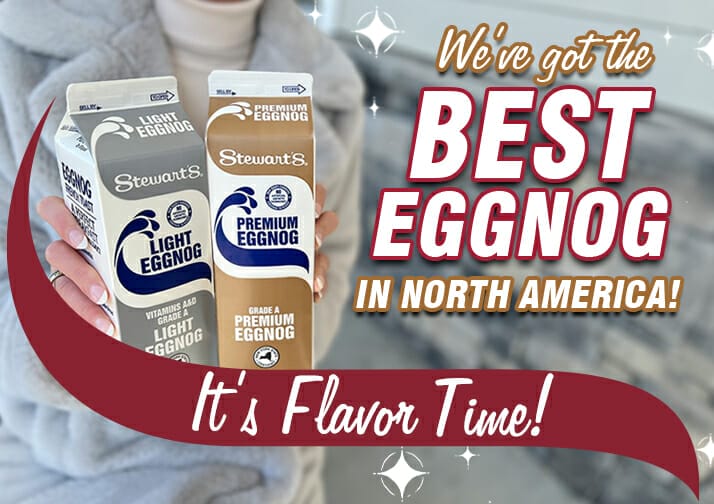 It's time to get in the Eggnog spirit! Quarts of Stewart's Premium and Light Eggnog have finally made their way to shops for the season, and we couldn't be more excited!
Did you hear the news? Stewart's Shops Eggnog was voted the BEST Eggnog in North America at this year's World Dairy Expo! You already knew our Eggnog was delicious, but what exactly makes it the BEST in North America?
The Fresh & Local Difference:
Stewart's Eggnog is made with quality ingredients, and it's the real thing! We make our Eggnog with our fresh and local milk, which was just voted the Best Milk in New York State at this year's State Fair.
Our Eggnog is also pasteurized, not ultra-pasteurized, which helps keep it's amazing flavor! Ultra-pasteurized may sound fancy, but when it comes to nutrition and taste, ultra-pasteurization leads to a more cooked flavor, less nutritional value, and an overall lower quality product.
Fresh is always better! At Stewart's Shops our Milk and Eggnog ship to our shops within 48 hours. You'd be hard pressed to find a fresher product. And how lucky that we can get the BEST EGGNOG in all of North America, made locally and sold right at your local Stewart's Shop?!
We're Spicing Things Up This Holiday Season:
For the first time, we're introducing a flavored Eggnog! We recently rolled out a BRAND NEW Gingerbread Eggnog, available in 16oz Refreshers for a limited time. Imagine the cozy warmth of gingerbread, combined with the rich creaminess of Stewart's Eggnog. It's an extra-festive match that can't be beat!
Did you Know? Stewart's Shops Eggnog is Available Year Round!
Every season is Eggnog season at Stewart's Shops! Unlike most other brands, we carry 16oz Refreshers of our Premium Eggnog year-round. Grab one from the cooler and enjoy it by itself, add a splash to your coffee, or whip up some delicious recipes like this mouth-watering Eggnog French Toast!
It's Flavor Time!