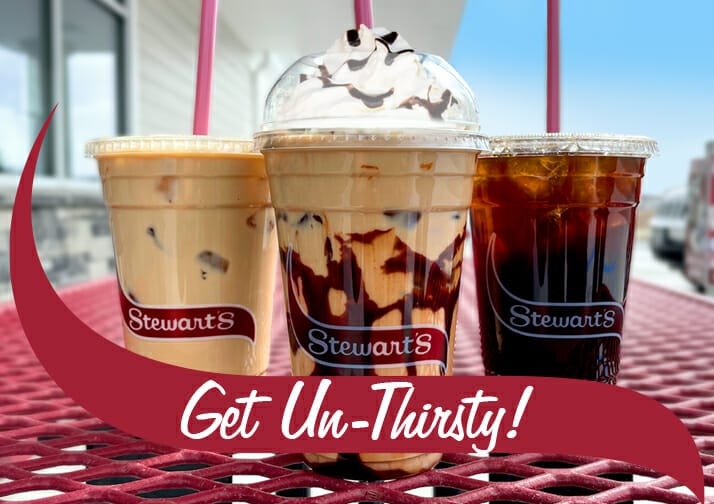 If you've never had a Stewart's Iced Coffee or Cold Brew, you're FALL-ing behind the trend! Our beverages are the perfect way to embrace the season, whether you're getting ready for Halloween, doing some yard work, or enjoying fall activities. And don't forget, we offer a pumpkin pie spice creamer option to get you in the fall spirit, made just the way you like it.
Not sure which is right for you? Here is the difference between the two:
COLD BREW:
Coffee grounds are steeped in cold or room temp water 12-24 hours. It helps create a distinctive coffee experience with a smooth, well-balanced flavor. The longer the coffee sits, the stronger the flavor.
Cold brew uses time instead of heat to extract the coffee's oils, sugars, and caffeine. The result is less acidic and bitter than iced coffee.
Stewart's Cold Brew Coffee is unsweetened.
ICED COFFEE:
Iced Coffee is steeped in hot water before being cooled down and served over ice.
Iced coffee is brewed as normal coffee which is then cooled down.
Stewart's Iced Coffee is pre-sweetened.
Our leading competitors do not have the option of "Make Your Own" which makes Stewart's Shops unique. You can make your coffee the way you want it with Stewart's Half and Half (regular or unsweetened French vanilla) or add an International Delight flavor. Year round we carry Caramel Macchiato, French Vanilla, and Hazelnut. Don't forget to try the limited-edition International Delight Pumpkin Pie Spice!
Don't just take our word for it, Capital Region Living Magazine gave Stewart's Shops a 1st place Bestie Award for our coffee! These awards are special because the Bestie Poll by Capital Region Living Magazine is 100% reader based. Their readers vote for local business that they love. In the Capital Region and beyond, there are a lot of different coffee shops, so we were honored to have been voted the best.
What are you waiting for? Head into your local shop and do it all this fall with a Stewart's Iced Coffee and Cold Brew!
We Are Your Coffee Shop.