At Stewart's Shops, we source our raw milk from more than 20 dairy farms across Washington, Saratoga and Rensselaer counties, picking up over 25,000 gallons of milk each day and processing it at our dairy plant in Greenfield, NY.
Today we are spotlighting the award-winning Gettyvue Farm, a longstanding supplier for Stewart's Shops.
The Gettyvue Farm, based in Granville, NY, has been operating since 1853, that's 167 years of dairy farming!
Today, Seventh generation, Brian Getty runs the farm with his brothers, Kevin and Terry Getty and sister Diane Getty-Smith. They milk 200 cows on the farm's 420 acres twice a day, seven days a week.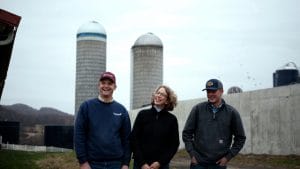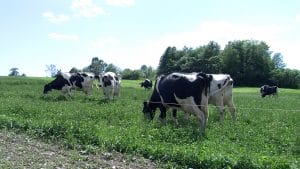 The Getty family has a long history of producing the highest quality award-winning milk.   They have received the following awards/distinctions:
The Empire State Milk Council (ESMQC) has bestowed the Supermilk Award every year to Gettyvue Farm for the past 30 years. Farms honored with the Supermilk designation are judged upon the overall cleanliness of their operation and their somatic cell count (SCC) of less than 200,000 cells per milliliter.
Recipient of the National Dairy Quality Award (NQDA). Gettyvue Farm is the only farm in the Northeast to receive this honor. The NQDA recognizes dairy producers in the U.S. who make it a priority to produce milk of the highest quality. The farm is a two-time gold winner (2013 and 2019) and a one-time silver winner (2005).
Received 30-year Dairy of Distinction Award from the Dairy Farm Beautification Program. This award is granted to dairy farms in New York and Pennsylvania that maintain the highest standards of quality and care for their herds.
Congratulations to Gettyvue for your outstanding honors and recognition, your commitment to quality is exemplary.
Stewart's Shops picks up their milk daily from 23 local dairy farms and has it available on store shelves within 48 hours. You would be hard pressed to find fresher milk.
Always Fresh & Local