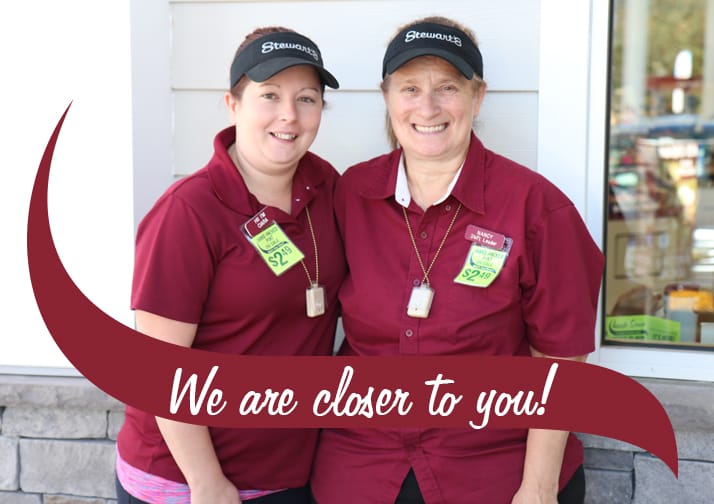 Stewart's Shops Partners go above and beyond to make sure you have the best experience possible when you visit.
Recently, our Partners have been showing how great they are, below are a few examples from our customers:
One Partner treated a young customer for being on their best behavior.
"I was eating breakfast with my 4-year-old son and she really made his day! She bought him a toy and complimented him on his behavior. I am really touched by her generosity and kindness. "– Matt L
Another customer had car problems and our Partner came to her rescue.
Deborah from Cohoes, wrote on Facebook to share her experience, "A huge THANK YOU 🙏🙂 to Jen, Assistant Manager at the Stewarts Shop 480 Columbia St, Cohoes NY. Unfortunately, I had some car trouble there today. She loaned me her phone – even searched for AAA. She then brought out some coffee to me while I was waiting on this dreary chilly day."
In our Middle Grove shop, a customer had a lot of questions about our coffee. The Partner took the time and happily answered all her questions. She then sat down with the customer and talked for a few minutes afterwards.
"Jackie was very informative about the selection of iced coffee Stewart's has…" said Nellie G, "…After we got our coffees, we sat down at a table to talk. We were blown away by Jackie's friendliness. She greeted everyone who walked in the door with a smile and a good morning."
A Partner came to the rescue of grandparents in Catskill.
"I just wanted to write and say what good customer service Alan provided to me this morning. We had our 5-year-old granddaughter for the week, and she woke up around 2:00am with a high fever. I found that Stewart's opened earlier than most and called the store a half hour before opening to see if they had Children's Tylenol. He said they did, so I came down. I got there a few minutes earlier than opening time and Alan came down and beckoned me in so I could get the medication and had it waiting at the register. I appreciated the extra effort on behalf of me and Stewart's Shops. What a great representative." – Elenore G.
Good deeds don't go unnoticed. Sometimes, customers don't write in themselves, but others who saw our Partner's actions share what they've seen.
From a long time, Stewart's customer, "I'm calling to say that your partner went out of his way, in sub-zero weather to put air in all 4 tires of a customer's car at the Coffeen Street Shop. Customer appeared to be about 85 years old, the partner helped her in her car and wished her a good day."
Jane B saw a similar situation at a shop in Queensbury, she wrote that, "One driver noticed that a customer's tire was flat. He changed the tire for her, checked the pressure, and taught her how to change it in case it ever happens again."
These are just a few examples of the many things our Partners do to go above and beyond for our customers. They often know the names of their regular customers. Remembering your order or asking about your day isn't out of the norm.
This past year has been tough and like everyone else, our Partners have faced a lot of new challenges. They have handled them all with a smile on their face and continue to provide great service! They have no problem going the extra mile to make your experience at your Stewart's Shop the best it can be. Our customers love the friendly atmosphere we build and promote. It is truly the little things our Partners do to go the extra mile that makes Stewart's Shops a part of your community.
We Are Closer to You.