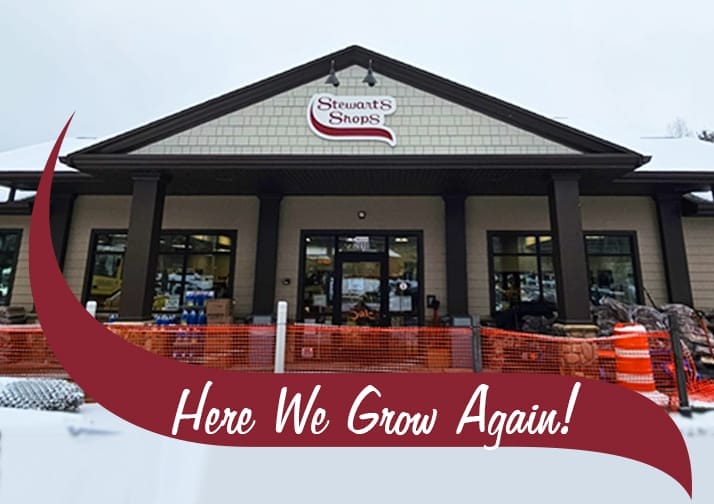 Our newly rebuilt shop in North Lake Placid located at 2090 Saranac Ave. opened in October and has so much more to offer!
You're invited to our Grand Opening Celebration on Friday, December 1st at 11am where we'll have specials all day!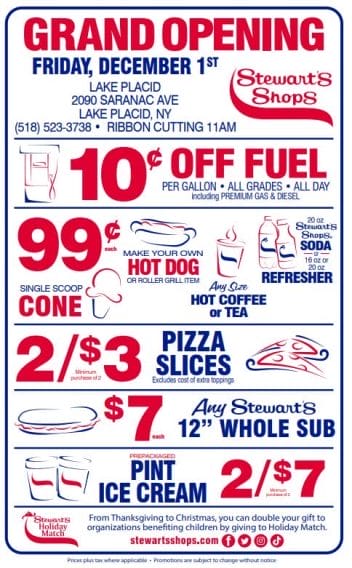 This new shop is bigger and better than before! Stop in and warm up at the food bar with award winning chili and meatballs available all day. In the mood for pizza? We've added extra ovens so you can try all our delicious flavors! On your way, out don't forget to grab a cup of Stewart's coffee and fuel up at our gas pumps!
If you live in the Lake Placid area, then you know how big this project was. Our original shop was connected to another store which we demolished to expand. Projects like these are part of our multimillion-dollar construction investment for 2023-2024. In 2023, we've been busy with plans for 6 rebuilds and 5 new-to-industry Stewart's Shops! Looking ahead to 2024, our projections include 8 rebuilds and 4 new-to-industry shops.
Did you know? We bring fresh and local products to remote areas like the Adirondacks! You can find some of the BEST dairy products in all North America right at your local Stewart's Shop! Don't miss out on first place winners like Stewart's Eggnog, Mango Dragon Fruit Sherbet, and Death by Chocolate Ice Cream. Our dairy products are the BEST because they're made with the BEST Milk in New York State.
From Thanksgiving to Christmas, you can double your gift to organizations benefiting children by giving to the Stewart's Holiday Match Program. We match our customers' donations dollar for dollar, with no administrative fees. The 2022-2023 Holiday Match Program raised over $2 million for local children's organizations! To date, with the help of our generous customers, we have raised over $36 million for local children's charities since 1986.
This is our second shop in Lake Placid, New York and one of seven Stewart's Shops in Essex County. This shop is situated in the heart of the Adirondack State Park, an area we absolutely love. In addition to the abundant nature that surrounds this shop, it's right down the road from the famous Lake Placid Olympic Center. Did you know? Stewart's Shops has several different exterior shop designs, one of them being the Adirondack model. This shop, like most located in the park, has a delicate brown paneling that blends well with it's surrounding, 6 million acre protected forest.
We are closer to you.
Take a look at the photos of the rebuild process!