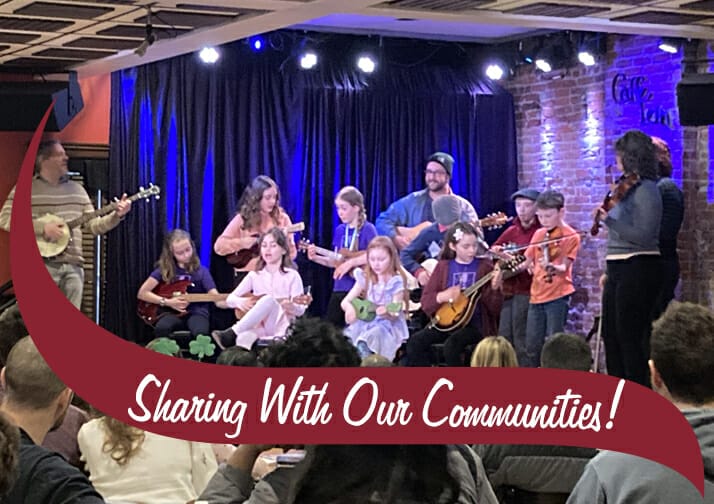 The sound of fiddles, guitars, banjos, and ukuleles fills historic Caffè Lena, but this time it's not a professional band on stage. It's a group of school children gathered in a circle, learning to play music together. For the last three years, young families have been flocking to the venue in Saratoga Springs to try out a unique approach to music lessons.
The Caffè Lena School of Music just got a major boost from Stewart's Shops/Dake Family with a $15,000 grant to support the growth of the program. "Caffè Lena has been a tremendous asset for many aspiring musicians and Stewart's Shops/Dake Family are proud to support this important educational initiative," according to Susan Dake, President of the Stewart's Foundation.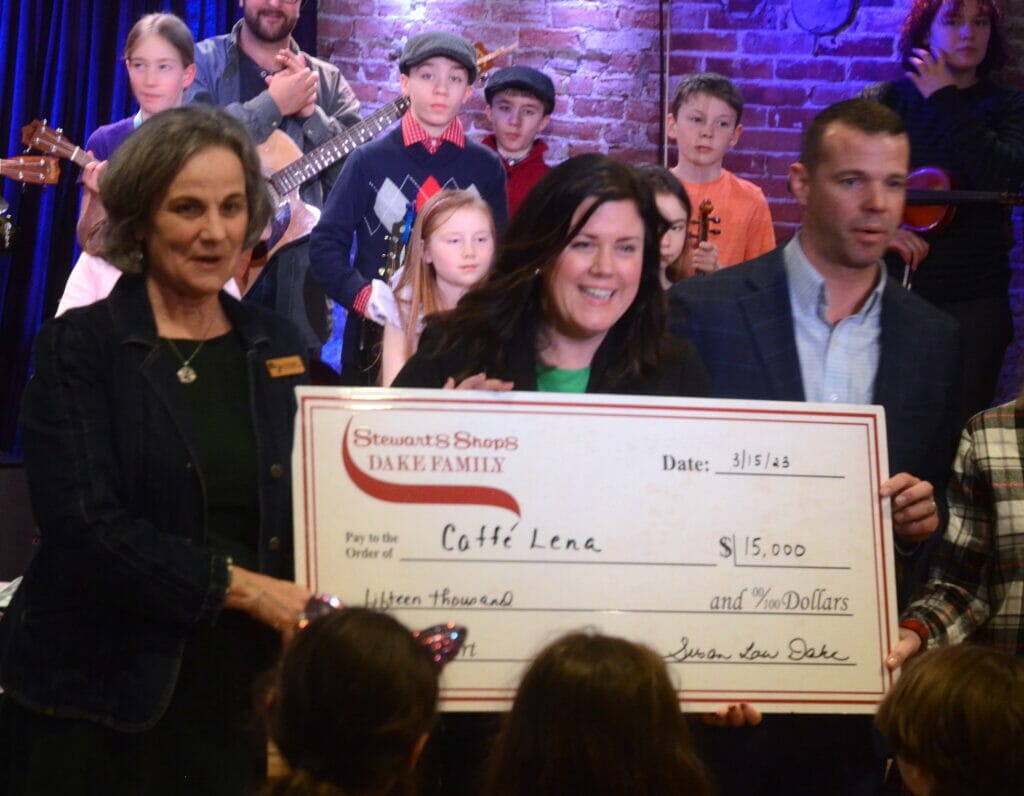 "The Caffè Lena School of Music is different because folk music is essentially social. Our students learn and play in small, friendly groups and master a repertoire that they can play by ear. It trains them to listen closely, keep their eye on others, develop flexibility and improvisation, and work to make the whole group sound good. These are all valuable life skills that set the stage for social and academic success," explained Vivian Nesbitt, Director of the Caffe Lena School of Music.
Thanks to generous community support, the venue has stepped up its programming for children over the past three years. "We can take them from preschool to professional," claimed Executive Director Sarah Craig. "We have a free weekly toddler show, and a free monthly family concert. Now we have music lessons for ages seven and up. Then comes open mic, and who knows where they'll go from there. The point is that music can be your friend for life."
Caffè Lena School of Music maintains a five-to-one student-teacher ratio, with additional volunteers on hand to help all the children keep up with the group. The funds from Stewart's Shops/Dake Family will keep tuition affordable, as well as underwrite the free toddler program and a need-based scholarship program that supports approximately twenty-five percent of the students.
"We're deeply grateful for the forward-thinking support of Stewart's Shops/Dake Family," said Nesbitt. "This is just one more way that they are improving the quality of life for local families. Thanks to their donation, we'll be building the audience and artists that will carry our American music tradition forward into the future."