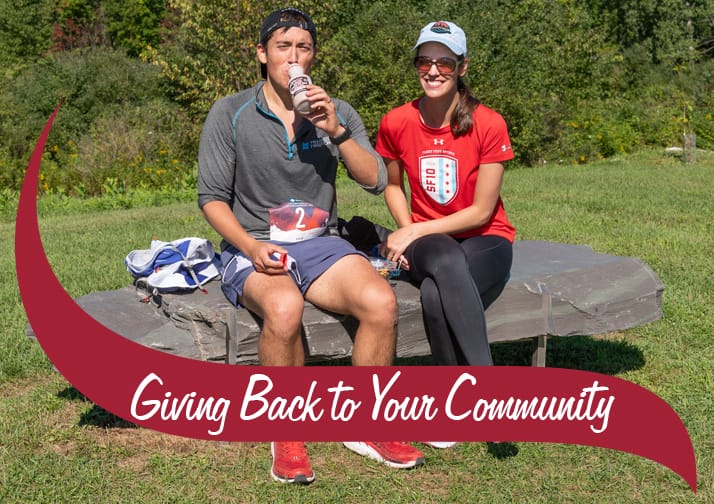 Did you know that chocolate milk is an excellent post-exercise recovery drink? Stewart's chocolate milk contains high-quality protein and key electrolytes that help you refuel after a good workout. Recently, we were able to donate our delicious Super Rich Whole Chocolate Milk to Slate Valley Trails, Inc. for the very first Slate Valley Scramble.
Slate Valley Trails, Inc. builds and maintains a beautiful trail system throughout Southwestern Vermont, which are free for the community to use! Proceeds from the Slate Valley Scramble will help them grow and maintain these trails, which run for over 40 miles. For the event, runners participated in either an 8K or a half marathon, and then refueled with some delicious Chocolate Milk and Sweet & Salty Car Cups provided by Stewart's Shops!
While it is a great post-workout drink, our chocolate milk is delicious at any time. In fact, it is so good that Stewart's Shops chocolate milk was recently named the Best Chocolate Milk in New York State! We were presented this award for both our regular and chocolate milk by Cornell University's Department of Food Science. At Stewart's Shops, we pride ourselves on providing fresh, quality milk sourced from local farms, and we are incredibly proud to have received this honor.
Stewart's Shops is proud to support this event and many others. This past week alone we were able to donate $27,657 to 58 organizations. Check out the listing below:
Adirondack Harvest
Adirondack Marathon
ALS Association of Upstate New York
Bard College
Berkshire Farm Center and Services for Youth
Burnt Hills Ballston Lake Central School
Bus Stop Club, Inc.
Camp Mu Ji Gae
Canajoharie Central School
Canajoharie Volunteer Fire Department
Capital Church, Inc.
Castleton University
Catskill Mountain Foundation
Chango Elementary PTA
Charcot Marie Tooth Association, Syracuse Branch
Clifton Park Volunteer Fire Department
Clippers Travel Baseball
Dake Foundation for Children
Destiny's Journey
East Greenbush Girls Softball
ENY BlackHawks
Friends of Recovery, Delaware and Otsego
Goff Middle School
Grassroot Givers, Inc.
Green Meadow Elementary School
Greene County Historical Society
Griffin's Guardians INC
Heuvelton Fire Department Auxiliary
Hospitality House
Keeseville Youth Commission
Lake George Music Festival
Land to Learn
Lewis County Fair
Lexington Center for Recovery
Living Resources
LUNGevity
Make A Wish Central New York
Mayfield Community Group
MitoAction Inc
New York State Children's Alliance, Inc.
North Chatham Free Library
Northern Community Pop Warner
Noteworthy Resources of Albany, Inc.
Ryan's Wish Foundation
Saratoga Snowmobile Association
Sparrow's Nest Charity
St. Catherine's Center for Children
Stanford Grange
Summitville Fire Co #1
SUNY Cobleskill University Police
The Glens Falls Kiwanis Foundation, Inc
Titans Baseball Club, Inc.
Trail Life USA , Troop: NY-4110
Tri-County United Way
United Cerebral Palsy of Ulster County
Upstate Cerebral Palsy – Chadwicks
Voorheesville Rod & Gun Club
Westville Fire Department
Stewart's gives $7.5 million annually to over 6,000 non-profit organizations. $5 million of it comes from the Dake Family Foundations, so it does not impact our Partners ESOP/Profit sharing.