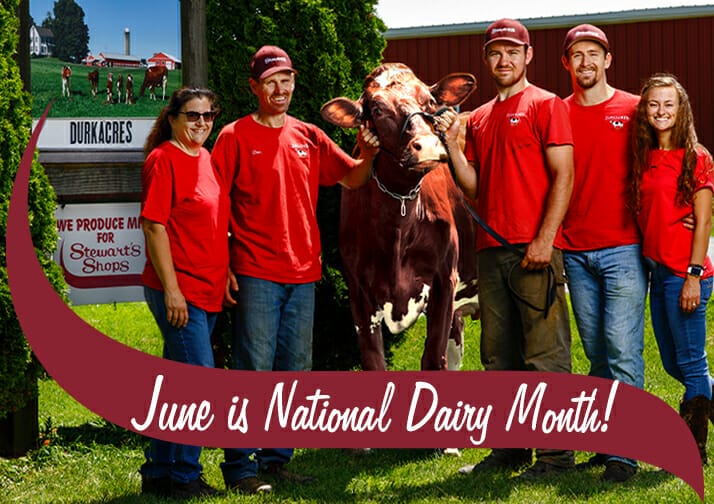 June is National Dairy Month, and this annual celebration honors the dairy industry and the products we all know and enjoy.
Whether you relish in a slice of cheese pizza, a glass of cold milk, or a delicious scoop of creamy ice cream, this month is the perfect time to immerse yourself in the gratifying world of dairy.
According to the International Dairy Foods Association, National Dairy Month started out as National Milk Month in 1937 to promote drinking milk. It was created to stabilize the dairy demand when production was at its highest. It has now developed into an annual celebration that recognizes the contributions that the dairy industry has made to the world. The name was changed to include all dairy products. Learn more here
Did you know? We source our raw milk from 20 dairy farms across Washington, Saratoga, and Rensselaer counties. We pick up over 28,000 gallons of milk EACH DAY and process it at our dairy plant in Greenfield, NY!
We pride ourselves on making fresh, great tasting milk all year long, which we couldn't do without our producers:
Gettyvue Farm has been producing milk for Stewart's for many years. This farm is based in Granville, NY and has been operating since 1853! This family farm milks 200 cows on the farm's 420 acres twice a day, seven days a week. The Getty family has a long history of producing the highest quality award-winning milk. In the past, they have received multiple awards to recognize their remarkable product.
Fresh & Local:
When it comes to dairy products, buying local is key. Fresh milk, which is guaranteed at all Stewart's Shops, can bypass the ultra-pasteurization process; a procedure where the milk is cooked at a very high temperature, for longer periods of time. This changes the taste of the milk; it doesn't taste as fresh. Stewart's requires that all milk be pasteurized for safety; however, the extremely high heat of the ultra-pasteurization process isn't necessary. That's because every carton of milk goes from farm to shop shelves within 48 hours! Our milk tastes fresh because it is! It would be quite difficult to find milk fresher than ours.
Come stop in your local Stewart's Shop today and try the freshness for yourself. Don't forget to grab a Milk Club Card while you are there! You'll get 1 punch for every half gallon you buy, and 2 punches for every gallon! 10 punches entitle you to a FREE 1/2 gallon of milk, juice, or Refresher or a 1/2 priced gallon of milk. (This program includes milk, but also Stewart's half gallon juices and Refreshers!)
If you love your Milk Club Card, then grab a Scoop Club Card too! Buy any 10 items from our ice cream counter and get your 11th free! This includes cones, sundaes, hand-packed pints, smoothies, milkshakes, and sherbet coolers. It's Flavor Time!
At Stewart's Shops, it's always Fresh & Local