Stewart's is Your Coffee Shop and we're brewing up some seriously fun flavors for you!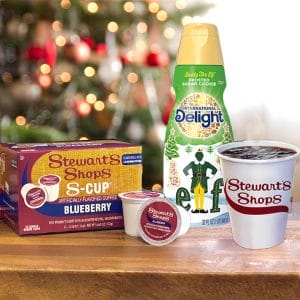 Introducing Blueberry S-Cups
Love our Make Your Own Blueberry coffee? We have introduced the much-loved flavor into our S-cup line. The 12 pack of coffee pods are now available in all our shops for $6.99.

New Seasonal Coffee Flavor
We are spreading our holiday cheer with the addition of Holiday Spice Coffee at our coffee counter. Holiday Spice Coffee is a festive spice harmony of warm cardamom, cinnamon, ginger, and touches of anise with a hint of indulgent vanilla bean. Available for a limited time at all shops!
Buddy the Elf has his own creamer!
The Frosted Sugar Cookie International Delight Creamer is a great complement to any coffee. Look for this limited-edition flavor at the coffee counter or bring one home today!
Eggnog in your coffee? Yes please. 
While this isn't new, it is AMAZING! If you haven't tried it, you don't know what you're missing. Stewart's fresh & local Eggnog adds the right hint of creamy dreamy sweetness to your coffee. And it's available at the coffee counter all year long, or take home a quart or refresher to add it at home with your S-Cups.
All the Flavors
Stewart's coffee has a flavor to satisfy every coffee drinker.
House blend
Decaf
Richer roast
French Vanilla
Hazelnut
Maple French Toast
Blueberry Crumble
Pumpkin Spice for a limited time
Holiday Spice for a limited time
Make Your Own at the shop or brew it at home, either way, you can count on Stewart's coffee to get you through the busy holiday season ahead.
What's Your Flavor?