It's the holiday season and that means festive lights, decorating, family time and good food. And you can't forget dessert. And do we have a treat for you!
You already love our Peppermint Stick Ice Cream and now you can take all that peppermint holiday goodness, put it into an ice cream cake, and impress all your guests. It's the perfect holiday dessert to enjoy with family and friends- and it's so easy! Peppermint Stick is flying off the shelves, so be sure to grab a half gallon while supplies, or give the recipe a try with your favorite Stewart's ice cream flavor!
INGREDIENTS
Crust:
1/2 cup (1 stick) unsalted butter
8 ounces bittersweet (not unsweetened) or semisweet chocolate, chopped
1 1/2 9-ounce packages chocolate wafer cookies (about 61 cookies)
Glaze:
1/2 cup whipping cream
1/4 cup light corn syrup
6 ounces bittersweet (not unsweetened) or semisweet chocolate, chopped
Filling:
One half gallon of Stewart's Shops Peppermint Stick ice cream (or flavor of your choosing!)
RECIPE PREPARATION
Crust:
Melt butter with chocolate in small saucepan over low heat. Finely grind cookies in processor. Add warm chocolate mixture; blend just until crumbs are moistened. Reserve 1 cup crumb mixture in small bowl. Press remaining crumb mixture onto sides, then bottom of 9-inch-diameter springform pan with 2 3/4-inch-high sides. Freeze.
Glaze:
Bring cream and corn syrup to boil in heavy large saucepan. Remove from heat. Add chocolate and let sit for 2-3 minutes. Whisk until melted and smooth. Let stand until cool but still pourable, about 1 hour.
Filling:
Spoon half of ice cream into crust; spread evenly (place remaining ice cream in freezer). Sprinkle reserved 1 cup cookie crumbs over ice cream in pan; press gently. Pour 1 cup chocolate glaze over ice cream in pan. Freeze 1 hour. Top with remaining ice cream; spread evenly. Freeze until firm, about 4 hours. Stir remaining glaze over low heat just until pourable but not warm. Pour glaze over ice cream; spread evenly. Freeze overnight.
Run sharp knife between crust and pan sides to loosen cake. Release pan sides. Transfer cake to platter. Garnish cake with peppermint candies and serve.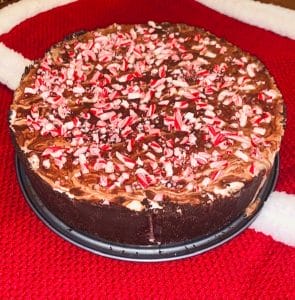 SIMPLIFIED VERSION:
If you're looking for a simpler version of this recipe, try making it into an ice cream pie! You can substitute the homemade cake crust with a pre-made chocolate pie crust. Then, spoon a layer of our Peppermint Stick ice cream into the crust and top with a layer of crumbled chocolate cookies. Finish with the chocolate glaze (you can halve the recipe provided above), and freeze until firm. Finally, top with some crushed peppermint candies, and you're ready to serve. This will give you the same amount of deliciousness, but half the work!