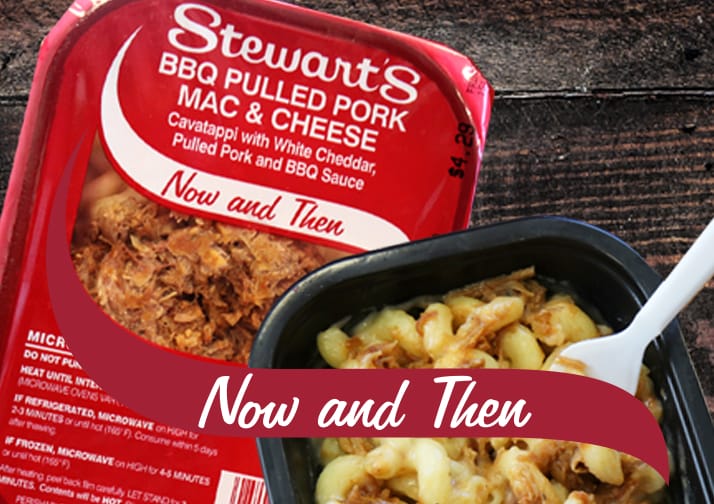 We make your life easier with Now and Then entrees. Made right in the Stewart's kitchen, you are getting the quality product that's expected from Stewart's Shop. The latest addition, BBQ Pulled Pork Mac & Cheese, is a delicious combination of cavatappi with white cheddar, pulled pork and BBQ sauce.
Now and Then Options to Choose From:
Penne Marinara
Chicken Alfredo
Cheese Manicotti
Mac & Cheese
(New) BBQ Pulled Pork Mac & Cheese
Since you already stop in for a morning cup of Stewart's specially brewed coffee, why not grab a Now and Then for lunch? Now and Then entrees are offered in three ways so you can choose one that fits your lifestyle. Find them in our freezer section, ready to heat in our cooler, or already warmed up for you right at the counter! Stewart's shops makes your life easier with great Easy Foods!
A Now and Then entrée can only be purchased at your local shop. We MOO (Make our Own) so you can get these at a great value. We use quality ingredients to ensure that you get a great meal every time! A Now and Then will mac your life easier!
A Friendly Reminder:
Per executive order by Governor Cuomo masks in our shops are a requirement for customers over the age of two and for those who are medically able to tolerate a face covering. As your neighborhood shop, we are always happy to see you and we thank you for following our mask policy.
We don't want to sound cheesy, but you and BBQ Pulled Pork Mac & Cheese would go really Gouda together. Give a Now and Then a try!