Outside the temperature is rising but inside there is a crew at Stewart's Shops gearing up in their warm snow pants, hats, gloves, and boots! They do it to keep your favorite flavors in stock at Stewart's Shops.
Heat Wave and Flavor Wave from Stewart's Shops Corp on Vimeo.
Did you know? Stewart's produces more than three million gallons of ice cream per year. We're Your Ice Cream Shop year-round and the flavors are flying on these hot summer days. Now is the perfect time to try any of our limited edition flavors available at the ice cream counter. Plus, you can earn free ice cream with the Scoop Club.
JOIN THE CLUB!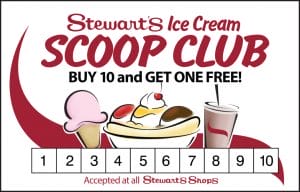 With the Scoop Club card, you can buy ANY 10 items from the ice cream counter and get your 11th one FREE. Single scoop cones, hand-packed pints, milkshakes, hot fudge sundaes… it's all included! Use the same card at all of our Stewart's Shops locations.