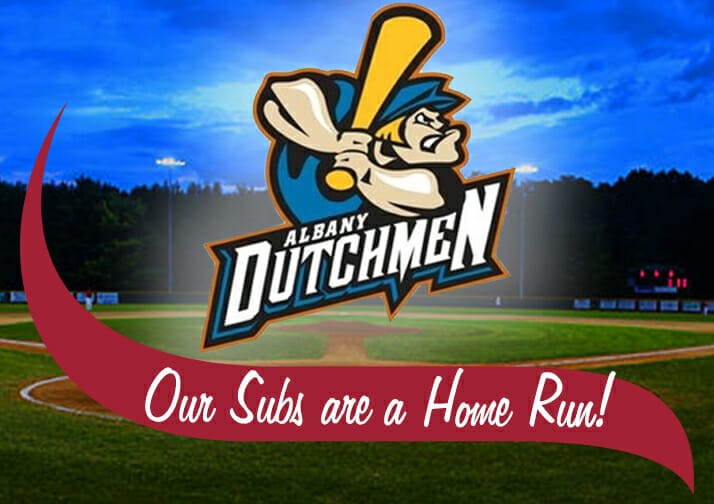 Stewart's Shops is a proud sponsor of the Albany Dutchmen. Stewart's Shops provided subs to the Dutchmen and their opponents to refuel after their game on July 22nd.
If you are in a hurry, try the to go subs we have! They are pre-made for your convenience so you can grab and go quickly.
Stop in pregame or postgame, Stewart's Shops has you covered. Looking for postgame recovery? Stewart's 1% Chocolate milk contains high-quality protein and key electrolytes making it a great option. For pregame, we have salads, pasta meals to go, fresh fruit, and nuts to make sure that you're fueled up.
If you are heading to a baseball game, is there a better way to get ready for the game than with a hot dog! At Stewart's Shops we have Make Your Own hot dogs. You can pick between a traditional hot dog, our Cajun dog, or a kielbasa. Don't forget the fixings! Our meat sauce and all other fixings are free of charge letting you customize your dog any way you want.
Looking for a sweet treat post-game? We have dozens of flavors of award-winning ice cream for you to enjoy at the cone counter and in pints and half gallons. At the cone counter you can get sundaes,  milkshakes, ice cream floats and of course, an ice cream cone.
Tired after the game and getting ready for a long drive home? Try our night owl or iced coffee shake. A Night Owl or an iced coffee shake combines two of your favorite things, Stewart's ice cream and Stewart's coffee.  The night owl is a scoop of ice cream in your favorite hot or iced coffee, perfect for a little sweet treat. The iced coffee shake is more indulgent with 8 ounces of either our cold brew or regular iced coffee and 10 ounces of your favorite ice cream flavor blended into milkshake.
Stewart's Shops is the perfect place to stop in for a quick bite to eat whenever you need.  We offer a variety of fresh food to go in our shops, everything from chicken sandwiches and cheeseburgers to fresh subs like the ones the Albany Dutchmen enjoyed. Whether you just need some sunflowers seeds and a Refresher or you're looking for something more filling like our meatballs or chili, Stewart's Shops Makes Your Life Easier.