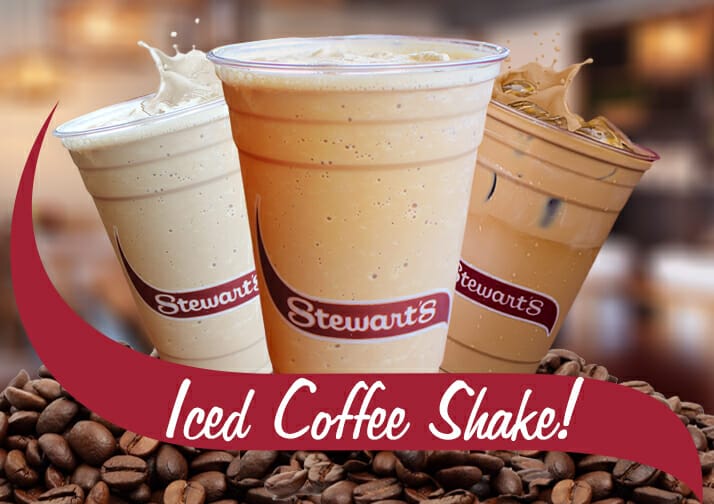 Looking for a sweet treat and a pick me up? The iced coffee shake combines your favorite ice cream flavor with the Stewart's coffee you love! Add any flavor of ice cream with our iced coffee or our cold brew to create the perfect afternoon snack.
Our iced coffee milkshakes are 8 ounces of either our cold brew or regular iced coffee combined with 10 ounces of your favorite ice cream flavor blended into milkshake.  What a perfect way to indulge on a summer afternoon.
Stewart's Shops was voted the Best Place to Get a Frozen Treat in 2021 according to the Times Union and was voted the best coffee around by Capital Region Living Magazine. You now can combine the best of both worlds with the iced coffee milkshake.
If you're struggling with flavor combos, don't worry, we have some ideas for you!
Since it's summer, is there a s'more iconic summer flavor than smores? Use our Campfire S'Moreo for a perfect summertime treat. Are you a coffee lover? Go with our Colombian Coffee ice cream with our iced coffee. Feeling a little more adventurous? Mix our Butter Pecan and cold brew together for a sweet treat that packs a punch. Try other flavor combinations like Brew Ha-Ha with iced coffee, Brownie Cookie Sundae with cold brew and the vanilla classic, regular iced coffee with vanilla.
Try one of those combinations or create your own today! The iced coffee milkshakes are the same price as an extra thick milkshake and available all day long at all the Stewart's Shops.