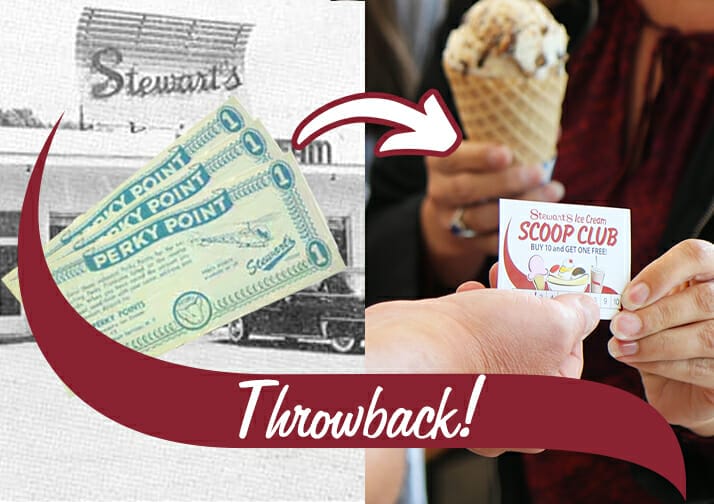 We recently had a customer find some old "Perky Points" stashed away.
Perky Points were available at our shops back in the 1950s. Customers earned points with their purchases and could save up for some cool rewards. The biggest reward was a ride in the Stewart's Helicopter for 500 perky points.
You may be wondering who is Perky? He was our original mascot. Our two current mascots are Flavor the Cow and Fresh the Chicken, but our former mascots were two, very cute lambs. Perky and Patches were the face of Stewart's Shops in the 50s. Perky even had his own ice cream packaging called "Perky Paks" that were single serve, individual packaged ice cream in a variety of flavors.
Perky Points and Perky Paks are no longer around, but we still use the same ideas today. Our Milk Club Card and Scoop Club Cards work like Perky Points by rewarding customers over time. Customers earn punches on their card over time, once they reach 10 punches, they receive a reward.
For the Milk Club Card, 10 punches earn you a free half gallon of milk, or a Refresher. With Scoop Club cards, you can buy ANY 10 items from our ice cream counter and get your 11th one FREE. Single scoop cones, hand-packed pints, milkshakes, and hot fudge sundaes are all included.
Our hand packed or prepackaged pints are like Perky Paks. You can get your favorite flavor in a smaller size than a half-gallon. Our pints are perfect for when you want to take home just a little ice cream for yourself.
Stewart's Shops Makes Your Life Easier.