Summer is finally here! At Stewart's Shops we are here to make your day easier by being a one stop shop! There is no better way to enjoy a meal in the summer than outside and at Stewart's you can do just that!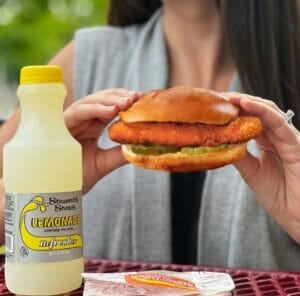 Summer is the perfect time for an outdoor lunch, and we have you covered! From deli sandwiches to chicken tenders or a lighter option like a green salad or smoothie, stop by your local shop and enjoy a sit-down meal made for those on the go. Have a delicious cold brew or iced coffee with your lunch that will keep you energized all day!
Get Un-Thirsty and pair your meal with a Stewart's Refresher or soda! There are so many ways to quench your thirst and don't forget to try our limited-edition Sunshine Shake Refresher before it's gone!
Take the whole family to Stewart's for a dinner that everyone will love! With endless options, every member of your family will find something they enjoy! If one family member wants a cheeseburger and another wants pizza, you're covered! A quick and easy meal can still be enjoyed around the dinner table at Stewart's with lots of indoor and outdoor seating!
Ice cream screams summertime and nothing is better than a cool ice cream treat on a warm summer night! Allow the whole family to indulge in ice cream while creating lasting memories together at our shop's outdoor picnic tables. Made with milk from local family farms, our ice cream will be sure to satisfy your cravings. Pick from our dozens of ice cream flavors at the ice cream counter and enjoy it however you like with a cone, milkshake, sundae, ice cream float, or a sherbet cooler!
Those picnic tables are calling your name so take advantage of the beautiful weather this summer by having a quick and easy meal outside!
We Are Closer to You.