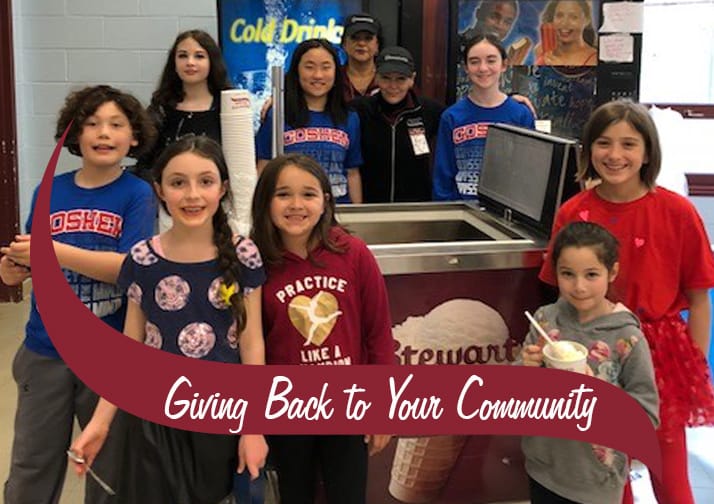 Just last week, Stewart's Shops/Dake Family provided donations to 132 organizations totaling over $21,910! These donations were made in the form of product, gift certificates, and monetary support. Stewart's Shops and related family foundations support local charities, donating $7.5 million annually.
Stewart's Shops/Dake Family are proud to support the communities that we serve. Whether it's a simple ice cream social or a monetary donation — we are proud to give back and make our communities stronger. This month, we've made many visits to baseball and softball fields with our ice cream cart, putting smiles on lots of faces. And we've hosted lots of ice cream socials for end-of-year school festivities!
Here's a glimpse of some community events we've helped to support:
Each month, we will highlight a large-scale donation that is used to better our communities. For May, we are proud to highlight our donation to the Adirondack Sky Center & Observatory. Because of the generous $125,000 donation from Stewart's Shops/Dake Family this month, this project was possible.
In the heart of the Adirondack Mountains, Tupper Lake, NY provides one of the best destinations for stargazing in the East. The combination of low-light pollution, low humidity and high altitude provide nearly ideal conditions for night sky viewing. It is here where the Adirondack Sky Center & Observatory (formerly the Adirondack Public Observatory) has been laying its roots into the dark side of a hill on Big Wolf Road. This relatively new and growing facility strives to "provide quality educational experiences for people of all ages through the science, technology, and history of astronomy." Offering a variety of unique public stargazing opportunities, educational lectures, family-friendly events, and more, the Adirondack Sky Center & Observatory is exposing the night sky in a whole new dimension.
To learn more about this amazing place, please visit their website.
Stewart's Shops have been serving the Adirondacks for more than 40 years starting in Lake George and then opening our Tupper Lake shop in 1985. We are committed to supporting and enhancing all our shops' communities. The Adirondack Sky Center will not only serve as an education center but also a destination for tourists and scientists who wish to expand their horizons literally and figuratively.
Learn more about our contributions and how to request a donation here.
Below is a list of the organizations that received support the week of May 13th:
Albany Barn
Albany Co. Dept. for Children, Youth, & Families
Albany County Fire Police Association
American Cancer Society Relay for Life, Rutland
American Foundation for Suicide Prevention
American Legion, Cairo
American Legion, Post 87 West Rutland
American Legion, Wurtsboro
Amsterdam High School
Arlington Nursery School
AYSO of Canajoharie
Ballston Spa Business & Professional Assoc.
Ballston Spa High School
Banana Splits, Forts Ferry
Beacon High School
Beekmantown High School
Bennington Elementary School
Bethany Village Senior Housing, Coxsackie
Big Brothers & Big Sisters- Capital Region
Birchwood School, Niskayuna
Black River Elementary
Boy Scout Troop 50
Boy Scout Troop 58, Port Jervis
Boy Scout Troop 71, Baldwinsville
Broadalbin Perth Learning Community
Cambridge Historical Society and Museum
Canton Goldenaires
Carthage Elementary School
Castleton Elementary School
Catskill Cub Scouts Pack 44
Central Park Middle School
Chateaugay Central School
Chester Horicon Youth Commission
Christian Brothers Academy
Church of St. Mary's/St Paul's, Hudson Falls
Circleville Middle School
Clifton Park & Halfmoon Emergency Corps
Clifton Park Senior Community Center
Cooperstown Concert Series
Cornell Cooperative Ext. Assn. Jefferson Co.
Cornerstone Fellowship, Hoosick Falls
Cub Scout Pack 1022, South Colonie
Cub Scout Pack 28
Cub Scouts, Pack 1097, Monticello
Cystic Fibrosis, Schodack
Donny Dudley Tennis Foundation
Eastern New York Dressage and Combined Training Association
Edward J Arthur Elementary School PTO
Empire State Paint Horse Club
Farnsworth Middle School
Fellowship of Christian Athletes
First Presbyterian Church of Glens Falls
Fort Edward Union Free School
Franklin County Department of Social Services
Free Spirit Fellowship Church
Friends of Johnson Hall
Galway Central School
Germantown Elementary School
Golden Hill Elementary School
Greenfield Home School Association
Hermon DeKalb Booster Club
Hoosick Valley Teacher's Association
Hopewell Depot Restoration Corp.
Hudson Falls Primary School
Hudson Teacher's Association
Hyde Park Education Foundation
Hyde Park Teacher's Association
Jamie Burroughs Memorial Scholarship
Jefferson County Fair
Johnstown Teachers Association
Kiwanis Club, Chester
Knickerbacker Middle School
Lewis County Soil & Water
Lincoln Elementary School, Schenectady
Maple Hill High School
March of Dimes, Glens Falls
Marcy Elementary School
Mechanicville Elementary
Menands Senior Citizens
Middleburgh Rotary
Millbrook Teachers Association
Mohonasen Central School District
Mohonasen High School
Montgomery C. Smith School
Mountaindale Volunteer Fire Department
New Central Baptist Church, Kingston
New Covenant Presbyterian Church
New York State Envirothon Committee
New York State Police
Northeast Parent & Child Society, Schenectady
Northern Dutchess Fusion Softball
Parishville-Hopkinton Central School
Pashley Elementary
Plattsburgh High School
Poestenkill Elementary
Police Athletic League of Poughkeepsie
Police Athletic League, Albany
Poughkeepsie High School
Poultney Fish & Game Club
Radio Kingston
Ralph R. Smith Elementary School
Red Hook Central School
Reid Hill Fish & Game Club, Amsterdam
Richfield Youth Sports
Rombout Middle School
Rugrunners Robotics, Inc
Saratoga Springs High School
Schenevus Baptist Church
Schoharie United Presbyterian Church
Shaker High School
Siena College
Skano PTA
South Lewis High School
Southern Adirondack Young Life
Spackenkill Central School District
St. Denis-St. Columba School
St. Mary's Church, Champlain
Taconic Hills High School
Tamarac Elementary
Town of Bennington Rescue Squad, Inc.
Town of Highland Little League
Town of Petersburgh
Town of Plattekill
Tribes Hill Volunteer Fire Department
Union College
Utica City School District, Proctor High School
VFW, Carthage
West Canada Valley Central School
West Carthage Elementary
Wilton Rotary Club
Young At Heart Senior Group
Youth for Christ, Unadilla
Stewart's gives $7.5 M/year, mostly to charities in our customers area. $5M of it comes from Dake Family foundations so it does not impact our Partners ESOP/ Profit Sharing.