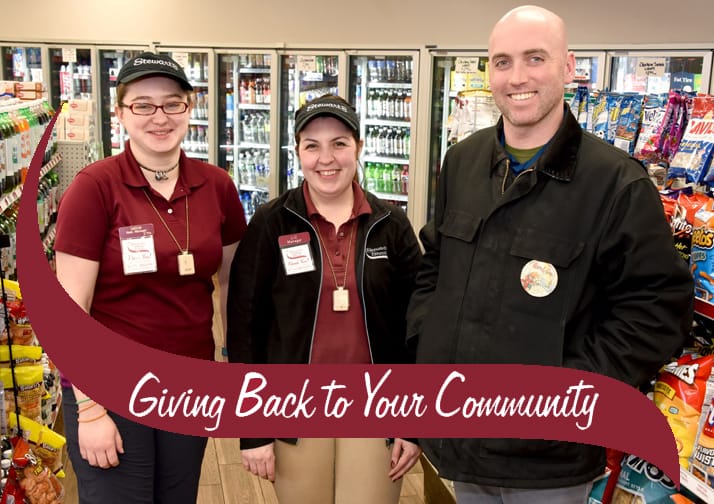 The Saranac Lake Winter Carnival is an iconic event that has been happening every January for over 100 years! The first Carnival was in 1897, and while Stewart's Shops hasn't been around quite this long, we have been proud supporters of this incredible event for decades.
For those that have never been to the Carnival, it is ten days of fun activities including winter sporting events, performances, two parades, and three sets of fireworks. The center piece of the Carnival is their incredible Ice Palace, which is hand crafted every single year.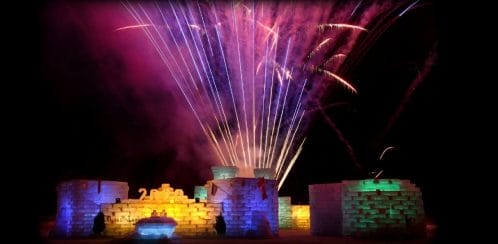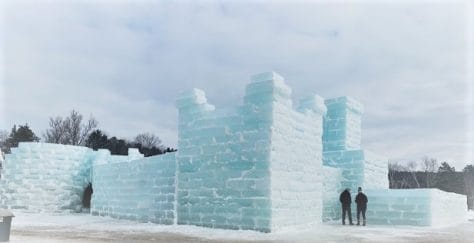 For this year's Carnival, Stewart's Shops offered our support with a donation of $1,250. This money was used to bring a crowd favorite, costumed Winter Carnival characters, to the Ice Palace! The Carnival characters travel through the various events, bringing joy and excitement to the kids and families in attendance. Our contribution was also used to support the Royal Pages at the annual Carnival dinner. The Royal Pages are children elected at the local elementary school and are celebrated as featured members of the Carnival along with other "Royalty".
Stewart's Shops is proud to support this event and many others. This past week alone we were able to donate $62,333 to 69 organizations. Check out the listing below:
Adirondack Community Outreach
Albany City School District
Albany Damien Center
Albany Pro Musica
Altamont Elementary
Ballston Spa Winter Cheer Booster Club
Beekmantown High School
Bennington Free Library
BH-BL Junior Baseball
Big Brothers & Big Sisters- Capital Region
Blessed Sacrament Food Pantry
Broadalbin-Perth Odyssey of the Mind
Catholic Charities, Ulster County, CYO
Catholic Charities, Watertown
Community Action of Greene County
Community, Work & Independence, Inc. (CWI)
Dodge Memorial Library
East Fishkill Baseball
Empowering Students of Dance
Faith Fellowship Church, Watertown
Fostertown Elementary School
Franklin County Fair
Girl Scout Troop #61127, New Port
Girl Scouts, Service Unit 208, Pine Bush
Glens Falls Youth Basketball
Granville FFA
Guilderland YMCA
Holy Trinity Church, Cohoes
Joseph House & Shelter, Troy
Kinderhook Basketball Association
Lake George Dinner Theater
Lighthouse Food Pantry
Liverpool High School
Loudonville Christian School
Malone Youth Wrestling
Mendon Fish & Game Club
Middle Grove United Methodist Church
Mohonasen High School Color Guard
National Museum of Dance
NYS Office of Parks & Recreation
Onesquethaw Fire Company
Open Door
Orville A. Todd Middle School
Queensbury Community Scholarship Association
Race for the Cure, VT/NH
Red Hook United Methodist Church
Rensselaer Plateau Alliance
Richfield Springs Food Bank
Rockdale Rod and Gun Club
Rose Garden Restoration Committee
Roving Actors' Repertory Ensemble
Salem Central School
Saratoga Bridges
Saratoga Chamber Players Inc.
Schenectady Babe Ruth
Seneca River South Little League
Seton Catholic High School
SoJourn House
Sons of Italy, Schenectady
SORENSCO Babe Ruth
St. Lawrence Central School
St. Lawrence County Seniors
True North Pregnancy Resource Center
United Way of Greater Capital Region
United Way of Northern New York Inc
VEM Food Pantry of the Carthage Area
Village of Lake George
Willow Roots
YMCA Capital District
 Stewart's gives $7.5 million annually to over 6,000 non-profit organizations. $5 million of it comes from the Dake Family Foundations, so it does not impact our Partners ESOP/Profit sharing.