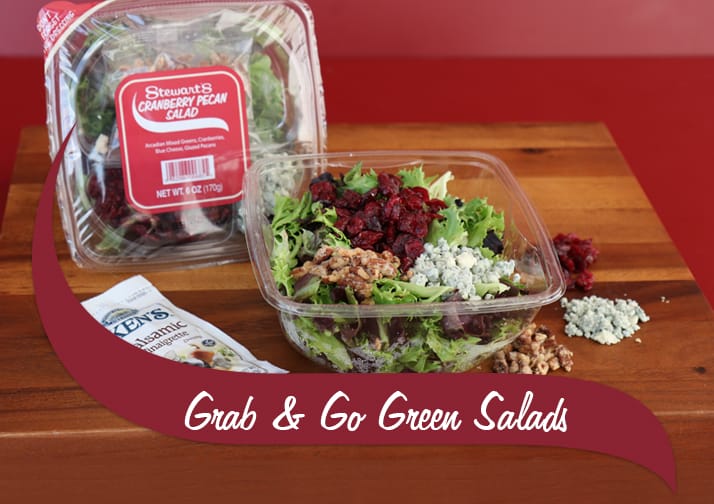 Now Offering Three Types of Salads!
Stewart's Green salads are refreshing and simple food to go options. We now offer three different salads for you to choose from with an original Chef Salad, a tasty Chicken Caesar Salad, and the latest addition, the Cranberry Pecan salad. All our salads are a healthier option made fresh right in the Stewart's kitchen. Each salad comes with free dressing and you can pick your favorite! Salads are located right in the cooler, making it an easy Grab & Go option for you for just $4.99.
Made in the Stewart's Kitchen:
Chef Salad – Fresh romaine lettuce, escarole, carrots, ham, turkey, cheddar cheese, grape tomatoes, and hard-boiled egg made just for you!
Chicken Caesar Salad – Crisp romaine lettuce, escarole, white meat chicken, parmesan cheese, and croutons tossed together in a protein-packed delicious lunch
(New) Cranberry Pecan Salad – A delicious combination of arcadian mixed greens, cranberries, blue cheese, and glazed pecans made right in the Stewart's kitchen!
Don't forget to grab your free dressing!
Italian
Caesar
Ranch
Balsamic Vinaigrette
Grab & Go:
Salads are an easy Grab & Go option for you. Stewart's Shops is your place for great Easy Foods! We know you're busy, and that's why we have so many options! We're sure that you will romaine happy throughout the day!
A friendly reminder…
Per Governor Cuomo's executive order, masks in our shops are a requirement for customers over the age of two and for those who are medically able to tolerate a face covering. As your neighborhood shop, we are always happy to see you and we thank you for following our mask policy.
Let us know if you have any suggestions for us! We strive to make you happy, so your recommendations mean a lot to us. We are so thankful for all our loyal customers during this difficult time. Lettuce make your life easier with great easy food.