EVERYTHING YOU NEED TO KNOW ABOUT STEWART'S COFFEE
We are your coffee shop. Stewart's unique coffee is created with our own special blend of coffee beans that gives it that one-of-a-kind flavor that you know and love! Stop in for your favorite flavor of hot, iced, or cold brew coffee. And don't forget to try our limited-edition flavors throughout select times of the year. Grab your favorite flavors to brew at home with Stewart's S-Cups or ground coffee.
Looking for something refreshing? We've got you covered with lightly sweetened iced coffee and unsweetened cold brew. Make it Your Way in all your favorite flavors like Hazelnut, French Vanilla, and Stewart's Unsweetened French Vanilla. Want to Grab & Go? Grab our Iced Coffee and Cold Brew Refreshers right out of the cooler.

We serve hot coffee all day! You can Make Your Own just the way you like it or have us make it for you. Add your favorite Stewart's Shops fresh and local milk, half & half, or International Delight® flavored creamers all available at the coffee counter. Sweeten up your coffee with your choice of sugar, Equal®, or Splenda®. Try from so many coffee flavor options like House Blend, Decaf, Hazelnut, Blueberry Crumble, French Vanilla, and Richer Roast. Stop by the coffee counter to check which rotational flavors we have! Enjoy a pastry or breakfast sandwich in the am or add a brownie or cookie in the afternoon.
Did you know we offer Dairy Free creamer for you to enjoy?

If you like to make coffee from home, we've got you covered with S-cups and ground coffee.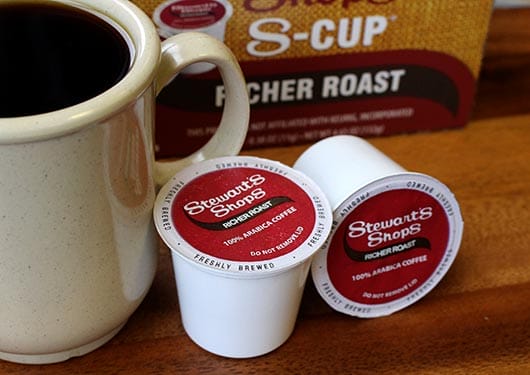 Need coffee for the whole group? We have just what you need with Stewart's Box of Coffee, just $12.99! Choose from any of our coffee flavors available in the shop (including in-season flavors like Island Coconut). Everything you need will be packaged with it, including:
8 (12oz) cups & lids
1 Pint of Stewart's Half & Half
Sugar & Sweeteners (Splenda & Equal)
Stirrers
Napkins
YOU CAN FILL UP ON HOT COFFEE WITH ANY REUSABLE MUG UP TO 32 OZ FOR JUST $1.20 (+TAX)!