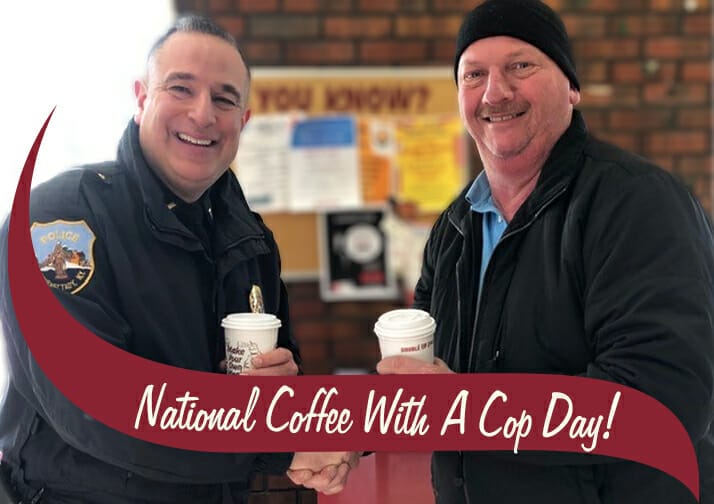 Stewart's Shops is excited to announce that we are partnering with local police departments across New York State for National Coffee with a Cop Day!
Wednesday, October 4th is National Coffee with a Cop Day, and we partnered with our community's police departments to help us celebrate! Coffee with a Cop is an opportunity for residents to meet with their local neighborhood police officers at a safe community spot. Stewart's customers will be able to share their concerns, ask questions, and just get to know their local law enforcement. Customers will also get a treat from the officers, who will be handing out FREE hot coffee certificates from 8-10am at several shops located in multiple counties across New York State!
We Are Your Coffee Shop, which makes Stewart's Shops the perfect meeting spot for Coffee with a Cop. Stewart's Shops has been a proud partner of this program, not just on National Coffee with a Cop Day, but throughout the entire year! It is our pleasure to give our communities the opportunity to build relationships with their local law enforcement.
This event will run in select shops from 8AM-10AM on 10/4. We will provide each police department with FREE hot coffee certificates to hand out to residents.
We are Closer to You.
To find out if a Stewart's Shop near you is hosting a Coffee with a Cop event, click HERE!