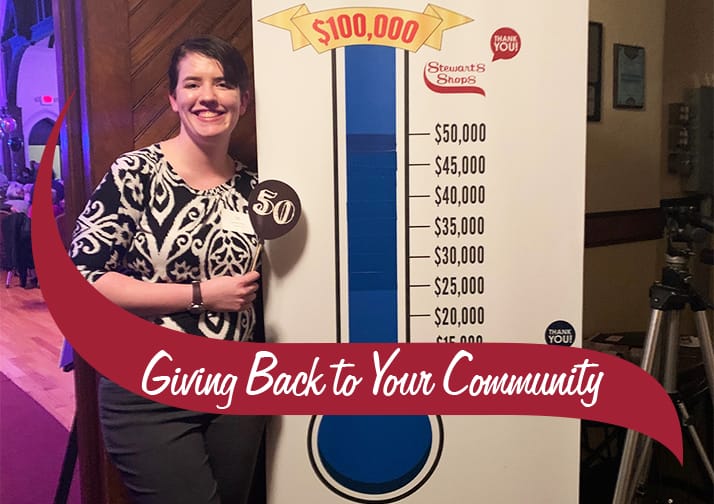 Pop into the Mechanicville Area Community Center on any given day and you will see a preschool setting, children getting free lunches on summer break, a food pantry in the lobby with fresh breads and vegetables for anyone in need, a place where domestic violence victims can go, and so much more. They pride themselves on neighbors helping neighbors by providing programs and services that reach across the lifespan.
The Mechanicville Area Community Services Center (MACSC) is in its 50th year serving their community and its surrounding communities improving the lives of area residents through family support, empowerment, recreation, and education.
The Mechanicville Community Center approached Stewart's last year with a request for help for an expansion project to their community center. They invited Stewart's Foundation President, Susan Dake and Corporate Contributions Director, Amy Potter in for a tour of the facility and they left quite the impression with the amount of services they provide to the Mechanicville community.
The Request
They asked for $50,000 and Stewart's challenged them to raise $50,000. If they were able to raise $50,000 as a community, Stewart's would match up to $50,000 in honor of the 50th anniversary.
Challenge Accepted
The Mechanicville community rallied and not only accepted the challenge, they exceeded the challenge.  In less than one year, Mechanicville area businesses and residents raised over $50,000 to match the pledged support from Stewart's Shops. Recently, the Mechanicville Area Community Center held a night of celebration to recognize the community support and Stewart's Shops for their generosity. The community center can now move forward with their plans for expansion.
The MASC is a true asset to the Mechanicville community. MACSC embraces empowerment-based community programming which includes: domestic violence advocacy and educational outreach, family development programming, emergency assistance including food pantry, satellite services like WIC and Child Health Plus enrollment, free income tax preparation, and preschool with wrap around childcare for working parents. MACSC will use this money to develop programming which is in line with its mission statement to "Improve the lives of area residents through family support, empowerment, recreation and education."
MACSC is not only a community center, but a true center for the community. At Stewart's Shops, we are happy to help them continue their mission.
Stewart's gives $7.5 million annually. $5 million of it comes from the Dake Family Foundations so it does not impact our Partners ESOP/Profit Sharing.