Stewart's Shops has teamed up with locally based Grey Ghost Bicycles to bring you a variety of cycling routes that will fit all levels and abilities. It is the perfect time to hit the road and experience the beauty of fall in Upstate New York. Here are two rides to choose from for this weekend.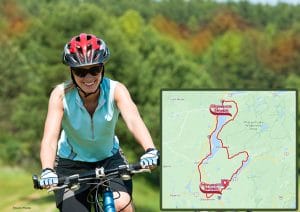 Check out Schroon Lake Ride. A beautiful and challenging ride that will take you along Schroon Lake and back along Brant Lake. This route has a Stewart's Shop located near the beginning so you can fuel up and stock your backpack for the adventure ahead. When you're mid-way, you'll reach another convenient Stewart's Shop location with a bathroom, more than 100 ways to get un-thirsty, and food options to satisfy you any time of the day. The time is right for the fall colors to be popping along this ride. Bring your camera and tag Stewart's Shops and Grey Ghost Bicycles in your phots.
The Warren Country Bikeway checks in at 20.2 miles but is a good one for families with older kids. This is a great ride to Lake George on the Warren County Bikeway. Stewart's Shops is located at the beginning of the ride, mid-way, and then you'll hit us again before heading back to your car. Perfectly placed pit stops to stock up, take a break, and then partake in a well-deserved treat at the end. Try a cone of Philly's Apple Pie or Pumpkin Pie ice cream to top off the perfect fall day. Share your photos!