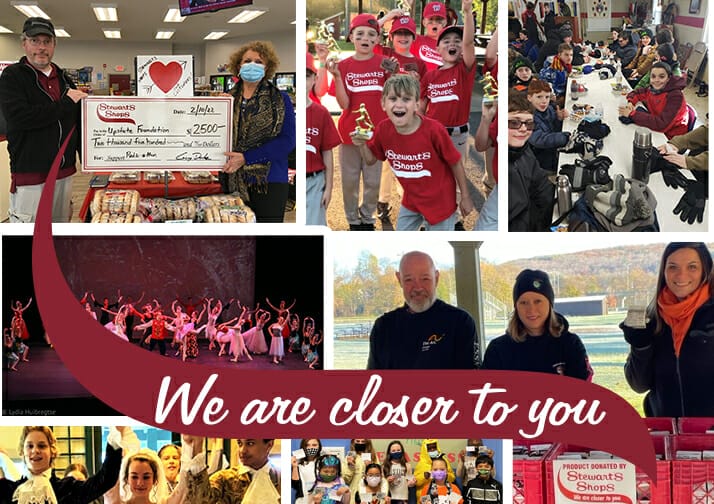 At Stewart's Shops, We Are A Sharing Company. We take pride in supporting our communities. In today's day and age, sharing has never been more appreciated. In 2022, we have a goal of donating $9 million to support non-profit-organizations across our market area.
We donate to an average of 6,500 organizations a year. In general, each organization is eligible one donation a year, in addition to their Holiday Match support. We understand that organizations need as much support as possible, especially in today's world.  Our giving guidelines are in place to make sure we can support as many organizations as possible.
It can be hard for organizations to determine their exact needs for the year. They may have events they want products at or need funding for different projects. We recommend organizations used Holiday Match for monetary and save their product donations for an event during the year.
Due to the increased demand for support, organizations have been getting creative with how they receive their donations. The Odyssey of The Mind program in Broadalbin, NY needed to raise money to travel to nationals. They received a donation of ice cream and sold scoops of ice cream during lunch to raise money!
We also offer a Matching Gift Campaign towards projects in our communities. The campaign can be for one week in two shops or two weeks in one shop, where we match customers' contributions for a particular project up to $5,000.
Our goal with our giving is to make an impact on as many individuals as possible. We love to strengthen our communities, not just through our Holiday Match Program, but year-round. It is never a question of whether we'll give, but rather to whom.
To learn more about our giving policy or to submit a donation request, click here.
If your organization has received funds we would love to share with the community! Please send pictures to photo@stewartsshops.com
Stewart's Shops, A Sharing Company