Stewart's Shops is a proud supporter of North Country Schools and community events, making Climbfest the perfect event!
Climbfest is a climbing competition between North Country colleges and universities. This will be an annual competition where students get to show their climbing skills/knowledge and compete for a variety of prizes.
Climbfest 2022 was held at Clarkson University located in Potsdam, NY. Clarkson University Outing Club (CUOC) hosted the event and CUOC Climbing Chair members, Ben Molloy, Quinn Risen and Evan Vogan organized and planned the competition. They invited 4 North Country Schools to compete at the university's new gym and beautiful rock wall! The schools competing were Clarkson University, Paul Smiths, SUNY Potsdam, Saint Lawrence University and SUNY Plattsburgh.
Stewart's Shops donated a few prizes for the competition including a $25 My Money Card and five Make Your Own Sundae Certificates!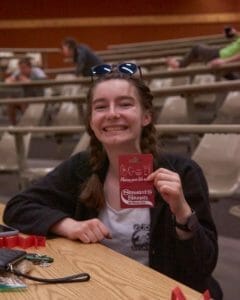 "Not only were students happy to see Stewart's Shops as a prize option but were thrilled to compete for and receive these prizes! One of our Outing Club's favorite places to go before any of our outings is to Stewart's for coffee, breakfast, gas and of course ice cream. We appreciate your continued support in the Clarkson and North Country Outing Community." – Quinn Risen, CUOC Climbing Chair Member
Stewart's Shops, A Sharing Company