Mother nature has been a little light on the snow this winter, so we decided to take matters into our own hands.
Meet Mr. Cone-Man! Mr. Cone-Man is just like a regular snowman, but MUCH tastier! And, he was just as fun to make. If you want to create your own Cone-Man, keep reading to find out how we made this little guy. It's the perfect activity for a not-so-snowy winter weekend!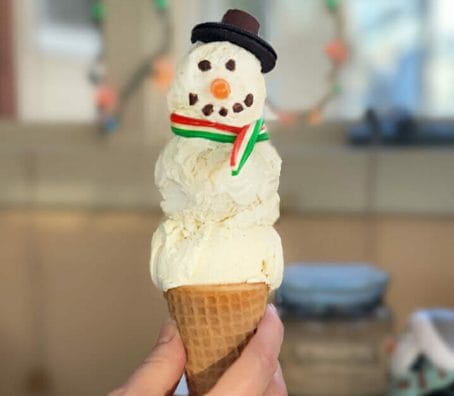 First, start off with your favorite Stewart's Shops ice cream! We used fan favorite Philly Vanilla, but you can mix it up with any flavor you like.
Next, gather some goodies that will transform your ice cream into a snowman! Start with a box of sugar cones to help keep your snowman upright. Then, use chopped chocolate chips for the eyes and mouth, and an orange Mike & Ike ® for the nose. For the perfect top hat, you can add a Rollo® onto an Oreo® cookie. And lastly, peel a section of a Pull-N-Peel Twizzler® to make the scarf!
Now it's time to scoop. Make 3 separate scoops, each a bit smaller than the last. To make everything easier to assemble, you can pop the scoops in the freezer for a bit. Once your scoops are ready, add them onto your waffle cone, and accessorize your Cone-Man. We promise, this will be the most delicious snowman you've ever made!