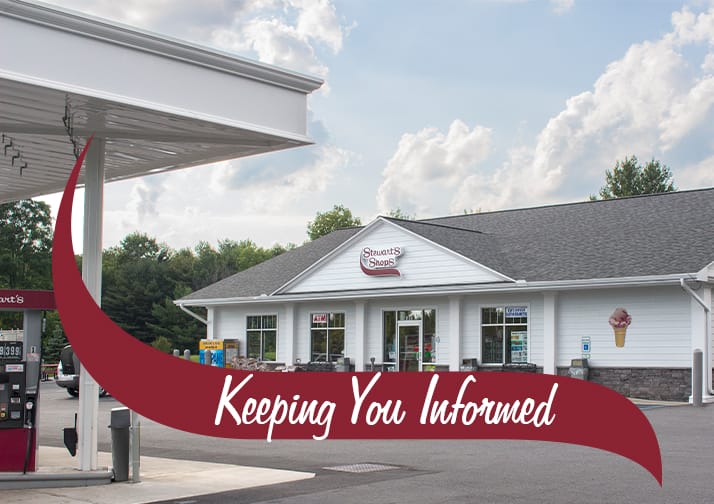 Our top priority is to protect the health and safety of our customers and Partners. We continue to follow all NY and VT regulations and requirements as we carefully return to normal.
Here's how we're working hard to keep our Partners and customers safe:
MASK POLICY

Effective  Wednesday, 5/19/21- We will be following the Governor's updated mask guidelines, allowing fully vaccinated individuals to come into our shops without a mask; unvaccinated individuals will still be required to wear a mask.
All employees will also follow the updated mask guidelines effective Monday, 5/24/21, and must provide proof of being fully vaccinated to Stewart's Shops management to be exempt from wearing a mask.
More information on masks:
For customers who are not vaccinated and medically unable to tolerate a mask/face covering, we are following Americans with Disabilities Act guidelines and will make accommodations for you.
For unvaccinated customers purchasing privileged items such as alcohol, tobacco, or lottery, please know that our Partners may have to ask you to take a step back from the counter and lower your mask for a short moment when asking for ID. This is to protect both our customers and our Partners from making an incorrect sale, as we must verify that the purchaser matches the photo on the ID presented.
GLOVES
We supply all of our shops with gloves for food preparation. Hands must be washed before gloves are applied.
PLEXIGLASS
As a precaution to help prevent the spread of COVID-19, we have installed plexiglass barriers that will separate customers from cashiers at each register. We have also installed plexiglass between booths in some shops.
HAND SANITIZER
All shops are offering hand sanitizer for customer use.
ROUTINE SANITATION & CLEANING
Our Partners are required to consistently wash their hands. They are routinely sanitizing food prep and customer area surfaces. Pin pads, door handles, coffee pot handles and high touch areas are being sanitized regularly by Partners and district staff maintenance teams.
COFFEE/FOOD TO GO
Our self-serve crocks with hot food items and Make Your Own Hot Dog programs are available. If you prefer, our Partners will get your selections for you. Our coffee program has been adapted to meet the needs of our customers. We offer a full-service coffee program in addition to our self-serve coffee program. Upon request, our Partners will pour your coffee and make it the way you like with sugar and cream. Our self-serve coffee station will remain open.
A Careful Return to Normal
We thank our customers for their loyal patronage and our Partners for their dedication as we carefully return to normal.