You know there's a lot of new Stewart's Shops being built when kids are inspired to build Stewart's shops made of Legos®!
Check out this Stewart's work of art created by 6 year old Thomas, he calls it "Stewart's Under Construction".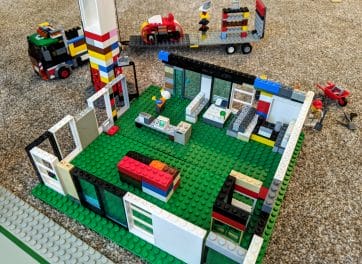 Look at that detail, well done Thomas and thank you for sharing!
We're fairly certain that Thomas isn't the only one seeing Stewart's Shops under construction. With 19 shops planned for 2020, nearly half have opened, and three openings happened in just one week!
Currently Open:
Ridge Street in Glens Falls
*New Windsor (Orange County)
Fuller Rd in Albany
Port Henry
*Rotterdam
Schodack
*Clifton Park
*New Karner Rd
Helderberg in Altamont
(Note: * = new to market shops)
We may be setting company records opening six shops in three short weeks, yes you read that correctly, SIX shops in THREE weeks in September. Our construction crews, District Managers, marketing teams, and gas team are busier than ever.
Save the Date for these Grand Openings:
Fresh and Flavor are pulling double duty with these Grand Opening double headers! We are having some great food, drink and gas specials to celebrate these new shops! We'd love to have you join us.
New Karner Rd- Open on 9/17 and Grand Opening on Friday, 10/2
Indian Lake- Open on 9/23 and Grand Opening on Friday, 10/2
Clifton Park- Open now and Grand Opening on Friday, 10/9
State Street in Schenectady, NY- Open Now and Grand Opening on 10/16
Full 2020 Shop Opening Schedule:
Fuller Rd in Albany, NY- Open January 2020
New Windsor  in Orange County- Open April 2020
Ridge Street (Open April 2020)
Port Henry- Open July 2020
Rotterdam- Open September 2020
Schodack- Open September 2020
State Street, Schenectady- Open September 2020
Clifton Park-Open September 2020
New Karner Rd. in Albany, NY- Open September 2020
Altamont Blvd in Altamont, NY – Open September 2020
West Bridge Street in Catskill, NY Open October 2020
Indian Lake, Open in October 2020
Keene- Open November 2020
New Paltz- Open November 2020
Everett Rd in Albany, NY Open November 2020
Spier Falls Rd in Gansevoort- Open November 2020
Sacandaga Rd in Glenville, NY- Open November 2020
Columbia Turnkpike in Castleton, NY- Open November 2020
Northline Rd in Ballston Spa, NY- Open in December 2020
These shops are part of our continuous commitment to meet our growing customer needs; offering a wider variety of food and beverage options, and to make the customer shopping experience even easier.
We Are Closer to You