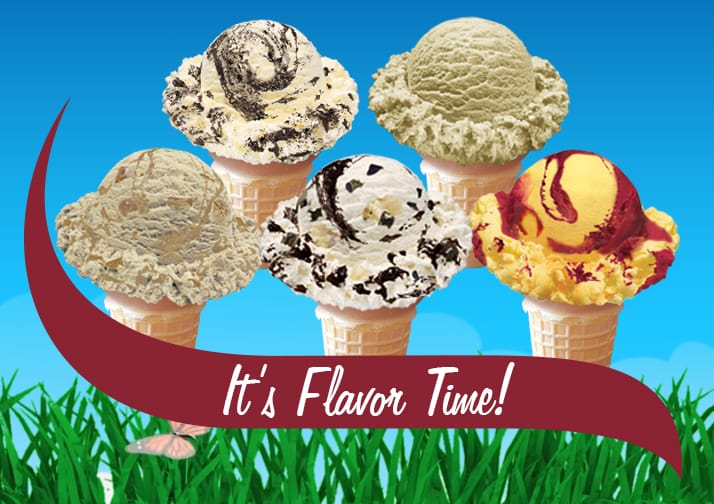 We're a few weeks into summer and the time is flying by! Our range of seasonal flavors are in the shops for you to try. The Limited Edition Cookie Dough Rumble will knock your socks off! This flavor is a spin on cookie dough ice cream that you never saw coming, cookie dough flavored ice cream with a chocolate cookie crumb swirl.
If you're looking for something different, try Totally Tiramisu. This tasty delight is mascarpone ice cream with a rich mocha swirl, loaded with espresso flakes and pound cake pieces. When you taste it, you'll agree that it's Totally Tiramisu.
Back by popular demand, Campfire S'moreo. It's a summertime favorite with toasted marshmallow flavored ice cream with a graham cracker swirl and oreo pieces. Nothing says summer like ice cream and s'mores.
It's Toffee Pie Time! No, really! Toffee Pie Time is the name because it's always time for toffee pie, made with brown butter ice cream and loaded with chocolate toffee chips and pie crust pieces.
Peanut butter lovers listen up! Peanut Butter Cookie is a peanut butter dream come true. Cookie dough flavored ice cream with a peanut butter cookie swirl and chunks of peanut butter cookie dough.
Finally, we're heading to the tropics with Mango Dragon Fruit Sherbet. It's the perfect blend of Mango Sherbet with a swirl of Dragon Fruit Sherbet. Want a fun tip? Try it in a Sherbet Cooler. Yum!
These limited edition flavors are available at the cone counter. Don't forget to use your Scoop Club Card and earn free ice cream all year long. Check out all of our creative flavors here.