Cooler nights, sweatshirts, and football! Fall is just around the corner and that means fall flavors are arriving. Here's the fall flavor lineup:
Ice Cream: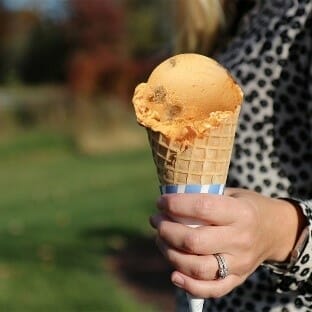 Pumpkin to Talk About Ice Cream– A fall flavor you'll love with its pumpkin-flavored ice cream, cheesecake swirl, and churro pieces available in pre-packaged pints. Available now!
Pumpkin Pie Ice Cream- Pumpkin pie flavored ice cream with graham cracker pie crust pieces. (Available at Cone counter starting on Monday, 9/13)
Philly's Apple Pie Ice Cream– It's Philly Vanilla ice cream with apple and shortbread pieces tied together with a delicious cinnamon crème swirl. (Available at the cone counter on Monday, 8/23)
Pastries and Donuts:
Iced Apple Muffins- Apple goodness in a muffin with sweet vanilla frosting to satisfy that sweet tooth. Available now!
Apple Fritters- Apples meet donuts for this fruit fritter amazing-ness. Available all year long with the fresh pastries and donuts. Pairs perfectly with coffee.
Apple Cider Donuts– Nothing says Fall like apple cider donuts! Single donuts are available now by the coffee station and our Apple Cider 6-pack of donuts are available Monday, August 23rd in all shops.
Pumpkin Muffins-Smooth pumpkin wrapped in muffin perfection. Pair it with coffee or apple cider.
 Coffee and Beverages:
Pumpkin Spice Coffee- That pumpkin aroma hits you as soon as you walk in the door and we also carry International Delight Pumpkin Pie Creamer.
Stewart's Fresh & Local Premium Eggnog Refreshers- The ideal balance of sweetness, spice and vanilla custard flavors. And it's available all year long in Refreshers and quarts are coming  in time for Thanksgiving.
 Apple Cider- Made from fresh apples, our apple cider can be found in the cooler at your local Stewart's Shop. Available in shops on Monday, August 30th.
*Don't forget to mark your calendars for Halloween day for 50 cent single scoop cones! It's a scary good deal!