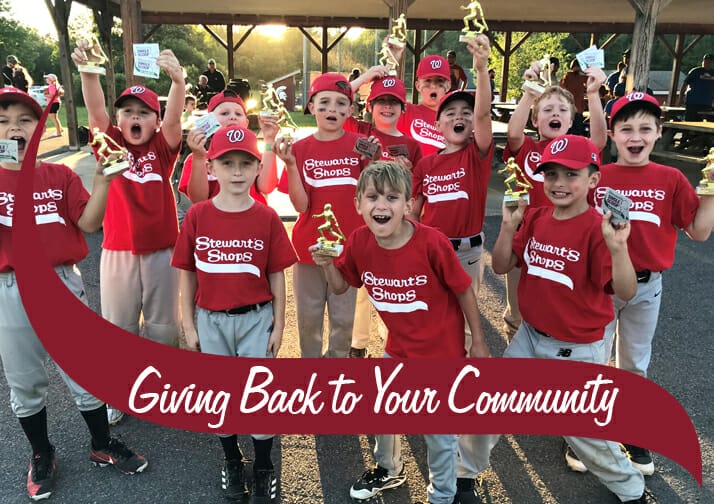 Stewart's Shops shares. We like to say we are a sharing company.   In the month of June alone we "shared" over 1,100 times. As a result of all that sharing, we donated almost $250,000 to organizations in our 32 different counties!
June is always a busy month for our Donations Department. There are  so many different reasons to celebrate in the month of June. It could be an end of the school year party, an end of the season celebration, or something else, we are always so happy to help. Community nonprofits, art organizations, schools, youth sports and more all received donations.  The donations varied from product donations to monetary and gift certificate donations. We try to help as many organizations as possible throughout the year.
We donate our own Stewart's brand products to help with the success of events or fundraisers. Products available for donations include our full line of dairy items including our fresh & local, high quality milk and award-winning ice cream, Refresher juices and teas, soda, hot dogs and buns, snacks, and much more. We donate coffee, cones, milkshakes, make your own sundaes, half gallon ice cream, milk, and gas certificates too. Gift certificates are able to be used at any of our shops with no added fees or expiration date!
In 2022 we have a goal to donate almost $9 million. That total includes Holiday Match and product donations as well. Our Holiday Match Program alone has accounted for over$34 million of support for thousands of organizations.
We like to say the question is to who we will give to, not if we will give. Above all, our goal is to benefit as many organizations and to make a positive impact so we can strengthen our communities. The sharing we do is focused in the communities we serve, not national organizations.  By focusing on our communities we can better cater to their specific needs and make a larger impact.
Stewart's Shops, A Sharing Company.