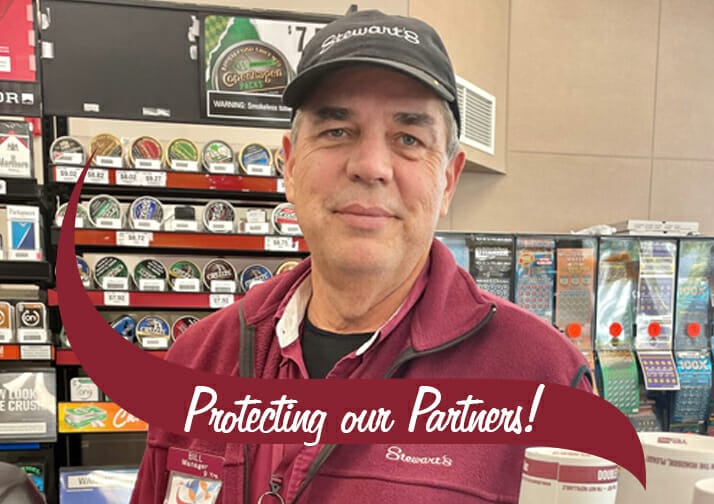 We are proud to be your friendly neighborhood Stewart's Shop. With 4,500 Partners across 32 counties in New York and Vermont, we work diligently to keep our customers and Partners safe. Fortunately, our shops always busy which naturally deters crime and we have many safety protocols in place to ensure safety.
Pendants-
Every Partner is equipped with a pendant they wear that puts them in direct contact with the local police department with one touch of a button.
Security Team-
We have a dedicated team of former police officers dedicated to the safety of our shops day.
Surveillance-
Each shop is equipped with surveillance cameras.
Shops-
Our shops are kept clean, organized and well-lit with minimal cash is kept at the registers
Good Relationship with First Responders-
As a community partner we have excellent relationships with our local police departments, fire departments, and emergency responders who often visit us for a quick coffee or snack break and to gas up.
Our Partners-
Our employees are well trained to handle difficult situations. They have clear visibility inside and outside the shop and are always alert.
Stewart's Shops is proud to be your coffee shop, your restaurant, your gas station, and your community hub. We are often the gathering place for families and friends and safety is our number one priority and we continue to keep our shops safe and secure.
We Are Closer To You