At Stewart's Shops, we're here to make your life easy. We know things can get busy, so why not save some time and let us be your quick and convenient one-stop-shop? Whether you're looking for a hot cup of coffee to get you going in the morning or need to make a grocery run on the way home (don't forget the ice cream for dessert!), we've got you covered.
We Are Your Coffee Shop
Stewart's Shops is truly YOUR coffee shop, because with us you get to make your coffee exactly how you like it. Choose from a variety of flavors like our House Blend, Richer Roast, Hazelnut, Blueberry Crumble, and more! Top off with your sweetener of choice and our fresh & local Milk, Half & Half, or International Delight® flavored creamers.
Iced coffee lover? Try our perfectly sweetened Iced Coffee or unsweetened Cold Brew! Or, if you need something to grab & go, snag any of our Iced Coffee and Cold Brew Refreshers right out of the cooler. No matter your coffee preference, you can't forget to grab your favorite pastry to pair with it!
We are Your Ice Cream Shop
Cones and sundaes and milkshakes, oh my! Let us satisfy your sweet tooth with some delicious ice cream, made fresh with milk and cream from local farms. We scoop right at the shop, so you can enjoy your favorite flavors in a sundae, cone, shake, dish, or a hand packed pint.
Our pre-packaged ice cream options are also a great treat, whether it's just for you or the whole family! We offer dozens of delicious flavors in FULL half gallons, unlike the "cheater packs" at supermarkets, as well as super-rich prepackaged pints, including creamy gelatos and non-dairy options!
We are Your Restaurant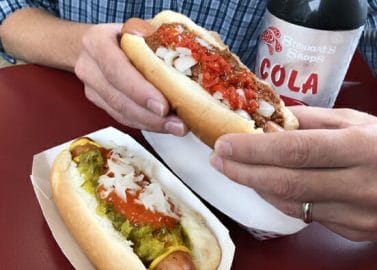 Whether it's breakfast, lunch, or dinner, we've got some great easy foods for a quick meal out! Take a seat in one of our booths and enjoy a breakfast sandwich with your coffee. Swinging by for lunch? Enjoy a Make Your Own hot dog or a fresh salad at our picnic tables! With endless options from chili and mac & cheese, to chicken tenders, cheeseburgers and more- there's something for everyone.
And to quench your thirst, make sure to pair your meal with a Stewart's Refresher or Soda! We have a great beverage selection, and you always get a great value. Why pay 50% more for national brands when fresh tastes better?
We are Your Grocery Store
Skip the supermarket lines on your next grocery run and swing by Stewart's Shops instead! We've got your essentials covered, from fresh milk and eggs sourced from local farms, to bread, baking supplies, toiletries, even pet food. All without the hassle of a crowded supermarket!
Don't need a full cart of groceries, but looking to grab some supplies for tonight's dinner? We make it easy! Find everything you need for easy meals like spaghetti and meatballs, tacos, chicken & gravy with mashed potatoes, burgers & hot dogs, and so much more! Don't feel like cooking? Try our Now & Then meals! Choose from options like Penne Marinara, Pulled Pork Mac & Cheese, Chicken Alfredo, Meatballs, or Mac & Cheese. All you have to do is heat them up! What's easier than that?
No matter your reason for visiting Stewart's Shops, know that you can count on us to provide quality products and a friendly place to shop, all while making your life easier!