Holiday Match begins on Thanksgiving Day!
While you're picking up your holiday needs this month, whether you need a pie or some eggnog,  milk, or even baking supplies, you will notice the Holiday Match container by the register at every Stewart's Shop.
Every little bit helps
Whether you drop 10 cents or $10 in that little bucket, every contribution counts! Last year, our generous customers donated over $1m in spare change, it's truly amazing how it adds up!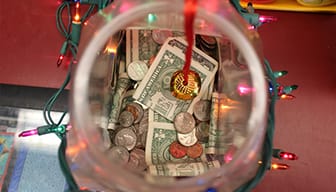 Holiday Match Applications
Applications for Holiday Match opened on Thanksgiving day. Non-profit 501c3 organizations are able to apply for funds starting Thanksgiving Day through January 31st. Applications are reviewed, and allocations are made in March. Applications can be found here.
About Holiday Match
This program started 34 years ago to specifically benefit organizations/programs for kids under the age of 18 in the areas of social services, health, education, recreations, and the arts.
To date, with the help of our customers, we have raised over $30 million for local children's charities. We collect donations in our shops from Thanksgiving Day through Christmas Day. We match our customers' donations dollar for dollar, with no administrative fees. In 2019, together we raised over $1.79 million.
Your Donation Goes Further
Unlike most charitable programs, the Holiday Match has zero administrative fees. The program only accepts cash donations which eliminates credit card processing fees; and 100% of the donations are allocated for children's charity groups. Also unlike other charities, EVERY SINGLE DOLLAR is matched, which means your donations are actually doubled.