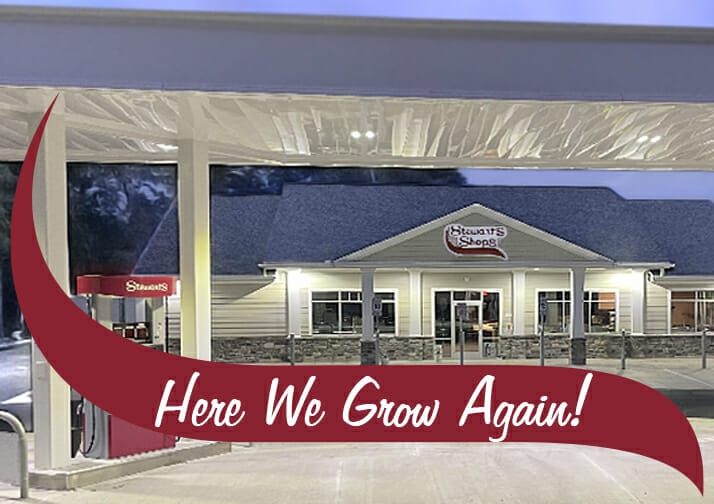 A new Stewart's Shop is opening at 90 West Main Street, Gouverneur, NY 13642. This new shop is now one of two Stewart's Shops in the village of Gouverneur which is located in New York State's, "North Country" and sits atop the Adirondack State Park. It's so far north it's close to the Canadian border!
The Grand Opening celebration will take place on Friday, October 13th at 11am and you're invited! Below are the Grand Opening Specials that will be available all day on 10/13/23.
In honor of this event, Stewart's Shops is donating $1,000 to the Gouverneur Neighborhood Association. This organization promotes a local food system that ensures food security for all St. Lawrence County residents.
This shop is big, which means lots of room inside for food-to-go options! Fan favorites like chili, mac and cheese, soups, and meatballs will be available at our large food bar. Calling all pizza lovers, this new shop will offer warm, fresh pizza all day long, order by the slice or get a pie to go.
Enjoy your ice cream, drinks, or quick meals inside at our booths or outside on the new patio equipped with several picnic tables. The parking lot has ample room for parking to make your stop easy. Truly a one stop shop—you'll find an expanded grocery selection, a beer cave, and gas including diesel.
Projects like these are part of our multimillion-dollar construction investment for 2023-2024. In 2023, it's been busy with plans for 6 rebuilds and 5 new-to-industry Stewart's Shops! Looking ahead to 2024, our projections include 8 rebuilds and 4 new-to-industry shops.
Did you know? Gouverneur is a great village tucked away in the heart of St. Lawrence County and is the perfect spot for outdoor enthusiasts. There are more than 200 lakes/ponds/streams to visit and fish in. There's also plenty of hiking trails to explore with beautiful scenic landscape and waterfalls! When visiting during a colder season, you'll discover that it's a fantastic hub for outdoor winter fun, with abundant mountains perfect for skiing and snowboarding.
We are closer to you.
Take a look at some pictures of the construction process!