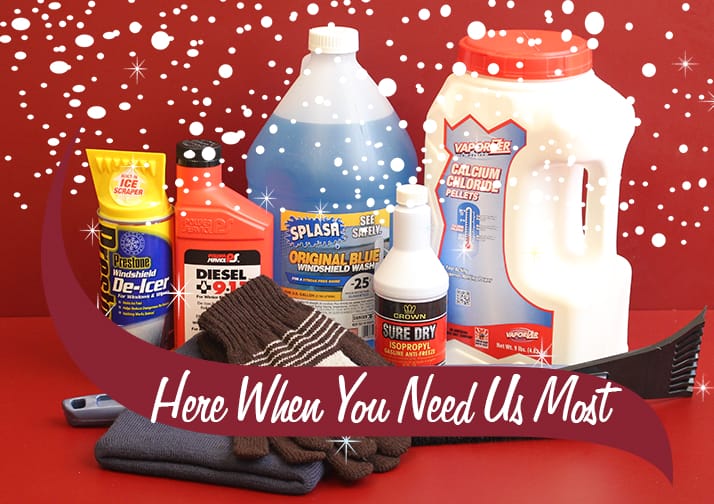 When there's snow in the forecast, Stewart's Shops is the place to stop!
Winter weather can be cold and uncomfortable and not an ideal time to shop around a big grocery store when you just want to get home. Let Stewart's Shops make your life easier when you don't want to travel far. We carry what you need from groceries and essentials to hot prepared foods, even winter weather supplies.
When winter weather strikes, we're here for all your needs, like ice melt or windshield washer fluid. Along with everyday items you need on hand, like milk, bread, and eggs (and some ice cream of course!). Whether it's battling the ice from these freezing temperatures or clearing snow, let Stewart's Shops be your one stop shop for all those winter weather supplies.
Stay warm with hats, gloves, hand warmers, and hot coffee! Dig out with snow brushes and shovels. Stay safe with ice melts and firewood. Warm-up with our wide variety of hot prepared foods like meatballs, soups and entrees, hot sandwiches, and subs. Fuel up with gas, kerosene, diesel, and non-ethanol gas – perfect for your snow blowers and snowmobiles. We are also a quick and easy stop for when you need to grab cold and flu medicines or even tissues and cough drops.
Need help finding the closest Stewart's Shops? No problem! Search for all of our locations HERE. Click the drop-down menu if you're looking for specific items, likes kerosene or pizza.
Let Stewart's Shops make your life easier with the one-stop-shop in the winter. And, since you're out anyway, you deserve some ice cream!