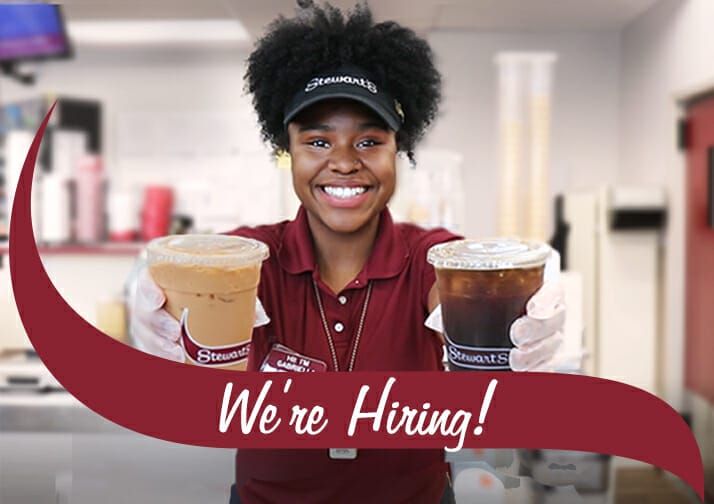 Interested in applying? Click here!
Start your career at Stewart's Shops! We are hiring at our Shops and Distribution Center, and are looking for brand new Partners to join our team!
Stewart's Shops is one of the top places to work in 2021 according to the Times Union and we currently have over 900 job openings. We are looking for friendly, motivated, and hard-working individuals to come join our team. We have over 345 shop locations as well as a distribution center and a corporate office that all are looking for help, you could be hired today!
Due to our vertical integration we can offer career opportunities in a variety of fields. It doesn't matter if you are looking for a job in one of our shops, in our warehouse or our corporate offices, there is a job at Stewart's for you.
The atmosphere is always positive at Stewart's Shops and that is because of our Partners. The people we hire are the key for our success and company culture. Stewart's offers plenty of flexibility for both full time and part time employees to help work around their schedule.  We often work in small groups where an environment of teamwork and communication is encouraged to help problem solve.
We offer great benefits for our Partners:
Employee Stock Ownership Plan (ESOP)
YMCA Discounts
Health Benefits
Paid Maternity Leave
Vision and Dental Coverage
Paid Vacation
Make Your Own Scholarship Program
Stewart's Credit Union
Go online to https://www.stewartsshops.com/careers/ and apply today!