At Stewart's Shops, we try to be as generous as possible to as many organizations as possible. Over the years of giving back there is a noticeable impact. Helping our communities grow and flourish makes us all stronger.
Through our donations, we can support a wide range of causes. Whether it's providing resources for education, community events, or assisting those in need, each donation allows us to make a tangible difference in the world.
Below are just a few of the organizations who have received a recent donation from Stewart's Shops and a glimpse into what they do.
BluePath Service Dogs:
About: BluePath provides autism service dogs, offering safety, companionship, and opportunities for independence.
"BluePath Reba joined our family a year ago, and she has been an absolute game-changer. She has fundamentally altered how Wesley interacts with the community. Routine outings have become a breeze and our world has gotten so much bigger. These experiences were made possible by Reba and the special bond she has with Wes. She keeps him safe and grounded and has increased his confidence tenfold. Together, they are conquering the world." – Wesley's mom, Kate
"Your support creates magic like this, and we are forever grateful." – Erica Stanzione, Director of Marketing and Development at BluePath Service Dogs, Inc.
The Junior Spartans Running Club:
About: Elementary School Running Team
"I have shared a couple of pictures of the huge amount of kids you supported for the 3rd time as part of our Junior Spartans Running Club at Hagan Elementary. I wanted to make sure you could see all the happy faces. You guys are the best!" – Geraldine LaGasse, Hagan Elementary Teacher
Hamilton County Envirothon:
About: The Envirothon is a tough, outdoor, hands-on, educational competition for local High School students.
"I would like to extend a sincere thank you for your generous donation to the 29th annual Hamilton County Envirothon! We want to make students aware of the world around them and the natural resources that we need to protect. Most kids involved will continue a college career in the conservation or science field and it is our goal to spark that interest in students. Again, this event would not be possible without thoughtful supporters like Stewart's Shops!" – Katie WhitKovits, District Technician for Hamilton County Soil and Water Conservation District
Career Day at Malta YMCA:
About: The Y is focused on strengthening communities for kids, adults, seniors and families with programs that protect, teach, connect, heal, nourish and encourage.
Stewart's Shops donated ice cream for kids on Career Day at the Malta YMCA! This was such an adorable event, and we even found a mini–Stewart's Partner!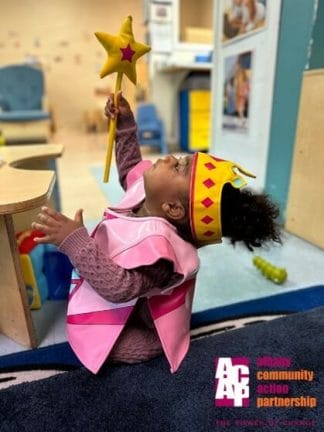 Albany Action Community Partnership:
About: ACAP partners with families and communities to expand opportunities and build stronger networks to foster upward economic mobility.
"Thank you so much for supporting ACAP's Early Childhood Education, particularly our Early Head Start. Our Early Childhood Education program serves income-eligible families across Albany County by providing quality education for children, ages 6 weeks to 5 years. In addition, the program also supports the children's families, connecting them to services, resources, and educational opportunities to uplift the entire family. Thank you for supporting us and the families we serve." – Katie Wock, Program Manager of Development Marketing at ACAP
Watertown Little League:
Here at Stewart's Shops, we are proud to support our communities. In 2022, we donated over $1 million to various organizations that provide recreation activities to children.
Did you know? Kids in uniform receive $1 off any regularly priced item at the cone counter! There's no better way to celebrate after a game than with Stewart's ice cream! And this deal is good for ANY kid in uniform. Whether it is a sports jersey, concert attire, or other club apparel; they are eligible for $1 off at the cone counter!
Supporting Our Communities
Stewart's gives $9 million annually to over 6,000 non-profit organizations. $6 million of it comes from Dake Family Foundations and does not impact our Partners ESOP/Profit sharing.