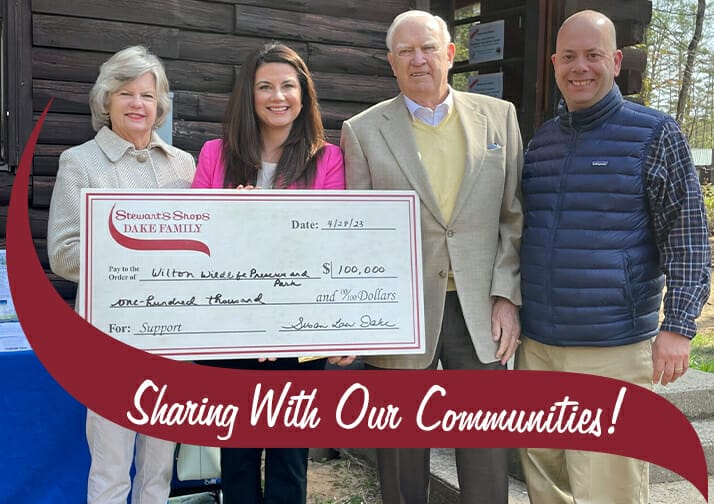 To celebrate Saratoga Living's twenty-fifth anniversary, a group of 25 individuals were carefully chosen for their significant contributions in shaping Saratoga and for their ongoing impact on the city's future. One of the Saratoga 25 was Susan Dake, the President of Stewart's Foundation and chair of the SPAC board.
According to Susan Dake, "Saratoga Springs is truly special because of our community's unwavering dedication. Giving back is ingrained in every resident here. It's also the collective efforts of our incredible Shop Partners that enable us to make a real impact. They deserve our recognition, for their hard work which fuels our ability to uplift and empower everyone around us."
In 2023, Stewart's Shops/Dake Family has a goal to donate $9 million. Stewart's Shops and the two related family donations will each donate $3 million to thousands of local charities.
The Stewart's Foundation makes large contributions every year to local organizations with the similar goal of strengthening our community. Narrowing in on 2022/23, there have been a few big donations that have been facilitated by Susan Dake from the Stewart's Foundation.
A recent $100,000 donation was made to the Wilton Wildlife Preserve for the development of the Outdoor Education Center that will become the focal point for visitors and users of Camp Saratoga.
The Stewart's Foundation also gave $200,000 to Skidmore College. This donation was for scholarships as well as special programs for the Saratoga community to enjoy like the Stewart's Signature Series. This donation will greatly enhance Skidmore College's support for students and educational initiatives, making a lasting impact on their academic and personal growth. Stewart's Shops has been a longtime supporter of Skidmore College as well as Empire State University. Donations like this have turned Saratoga into what it is today, a hub for good education and community events.
The Stewart's Foundation has been a longtime supporter of the Saratoga Performing Arts Center (SPAC). This year, Susan facilitated a donation of $250,000. This institution holds great significance in Saratoga, as it has played a crucial role in shaping our community. It's important to extend support to cultural establishments that have contributed significantly to the development and enrichment of our city.
Also in 2023, the Stewart's Foundation generously donated $200,000 to Saratoga Hospital, specifically allocated for the acquisition of a CT scanner. This contribution will greatly enhance the hospital's diagnostic capabilities and further support their mission of providing high-quality healthcare services to the community.
In 2022, the Stewart's Shops/Dake Family donated $3 million to support the Saratoga YMCA and Saratoga Senior Center's joint project. Stewart's Shops has been a long-time supporter of the Saratoga YMCA. The new center will help to strengthen the community we serve for years to come.
Congratulations to Susan Dake for being recognized for her ongoing contributions to Saratoga Springs. Her efforts have helped to shape Saratoga into the city it is today.
Stewart's Shops, A Sharing Company