There are so many incredible people and charities within our communities that truly impact the lives of children. With the Stewart's Holiday Match Program these children's organizations are able to continue the amazing work they do on a daily basis. Without our generous customers the Holiday Match Program would not be available to provide support to these organizations. Read below to learn about BluePath, an organization that helps place service dogs with families who have special needs children.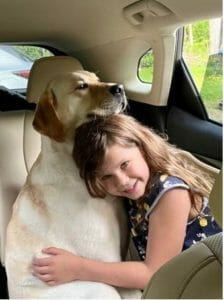 Through our Holiday Match program, we supported BluePath Service Dogs out of Hopewell Junction, New York. Blue Path is an incredible organization that helps place specially trained service dogs with families who have special needs children. Each family also receives free, ongoing lifetime support making sure the families, children and dogs are as successful as possible.
The training process is over a year-long and costs approximately $40,000 per dog! The dogs are trained to help keep the child safe. Each dog is carefully placed with a family based on the dogs strengths and the family's needs. Our Holiday Match donation last year helped with training and placement costs.
BluePath service dogs have an incredible impact on the lives of children with autism and their families. Many children with autism have bolting tendencies, which can make trips outside of the house dangerous. The dog is connected to the child with a special tether system and acts like an anchor to keep them from bolting. The dogs provide a sense of security and comfort to the parents while allowing the kids to be safer and more independent.
One service dog from BluePath, Mesa, was placed with the Marra family; Mesa's "mom" shared the following:
"My BluePath family and our Golden Retriever guardian angel, Mesa, have given us unexpected hope for a better life. Our recent family vacation was the first in 11 years where we felt at ease.; it was the first trip we didn't use a stroller! With Mesa by Sebastian's side, she assisted with long check-in lines, waiting for baggage, and gently encouraging him to walk longer distances (which has always been challenging). She even guided him through the Medina in Marrakesh! Every day is brighter and more hopeful with Mesa." – said Giulia Marra, Sebastian's, and Mesa's mom.
Check out the video below to learn more about Blue Path and see how the organization impacts the lives of so many people!
We are closer to you!