Did you know we've been serving ice cream since 1921 (nearly 100 years)? In fact, in our first year, there was such a demand for it that the Dake brothers sold over 4,000 gallons… We've pretty much been serving you ice cream ever since.

Did you know?
Our average weekly movement of ice cream is approximately, 80,000 half gallons, 5,500 dip boxes, and 30,000 pints
Some of the top selling flavors include: Vanilla, Chocolate, Peanut Butter Pandemonium, Philly Vanilla, Chocolate Chip Cookie Dough, Vanilla-Chocolate-Strawberry (Neapolitan), Mint Cookie Crumble and Chocolate Peanut Butter Cup
Stewart's sells over 3 million gallons of ice cream annually
WE MOO (MAKE OUR OWN) FOR YOU
Local milk & cream
Quality ingredients
Just the right amount of air, inclusions, and swirl
Made with care by owners of the business
WE CONTROL IT ALL THE WAY TO YOU
No middleman
Quicker delivery
Perfect conditions – other brands get abused during delivery or in the freezer.
WE ONLY SELL TO YOU IN OUR SHOPS
Brands sold in supermarkets:
Continuously cut corners and reduce quality to lower price.
Use cheater packs (smaller packaging that looks like a half gallon) vs. Stewart's full half gallon.
WE SCOOP IN THE SHOP
You can taste dozens of flavors before you buy!
Try them in a sundae, cone, shake, dish or just a sample.
VARIETY / CHOICES
Ice Cream, super rich ice cream, gelato, light ice cream, sherbet.
Dozens of fun delicious flavors sold at the cone counter, in half gallons, pints, and hand packed pints!
The real reason Stewart's ice cream is so delicious – we really like good ice cream and we hope you do too!
JOIN THE CLUB!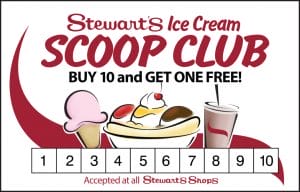 With our new Scoop Club card, you can buy ANY 10 items from our ice cream counter and get your 11th one FREE. Single scoop cones, hand-packed pints, milkshakes, hot fudge sundaes… it's all included! Use the same card at all of our Stewart's Shops locations.